Ride report: Sunday 25 August – South Downs Way to the Meon Valley

It's been a while since I've ridden any part of the South Downs Way but recently I've revisited it twice and thoroughly enjoyed myself each time.
Thanks to Karl, who has spent a lot of time putting some routes together I've been down first to revisit the route between Lewes and Alfriston on a very windy day a couple of weeks ago. This time we tried a loop out to the Meon Valley from Winchester on what turned out to be the hottest August Bank Holiday weekend ever so far. Boy, was it hot (it topped out around 33°C)!
This Sunday's ride got off to a late start due to crazy traffic and a lot of car-loading faffage with the bikes. The main issue was fitting three bikes instead of two securely on my rack because this weekend we were joined by Brian from Wisconsin who is married to my wife's cousin. Easier to just say Brian.
Brian has actually ridden with us before, back in the dim distant past in October 2003 when we took him for a ride round Leith Hill. I didn't realise at the time that Americans run their brakes Euro-fashion until Brian nearly disappeared over the bars at the first need to brake hard!
No mistakes this time, I had him properly briefed for taking out my Bird AM Zero hardtail. I proffered the Jeffsy but he was happy to go for the hardtail option. This might seem a bit of a rowdy bike for a day in rolling hills and chalk downland but my experience of the Bird so far is it's a brilliant XC machine that is comfy and climbs really well.
Also along for the ride was MarkJ, my brother in law who is unencumbered by excuses now that he rides a Bird Aeris 145 of his own. Lovely bike.
And the guys we kept waiting? A very patient Karl, Elliot and Andrew (who these days is Stonehenge-based, for want of a better description). Thankfully their wait was in the delightful environs of Winchester Cathedral with coffee on-tap.
Our ineptitude meant by the time we were rolling out of town and onto the South Downs Way it was into the hottest part of the day and as soon as we rode out across the first open field you could feel the sun biting.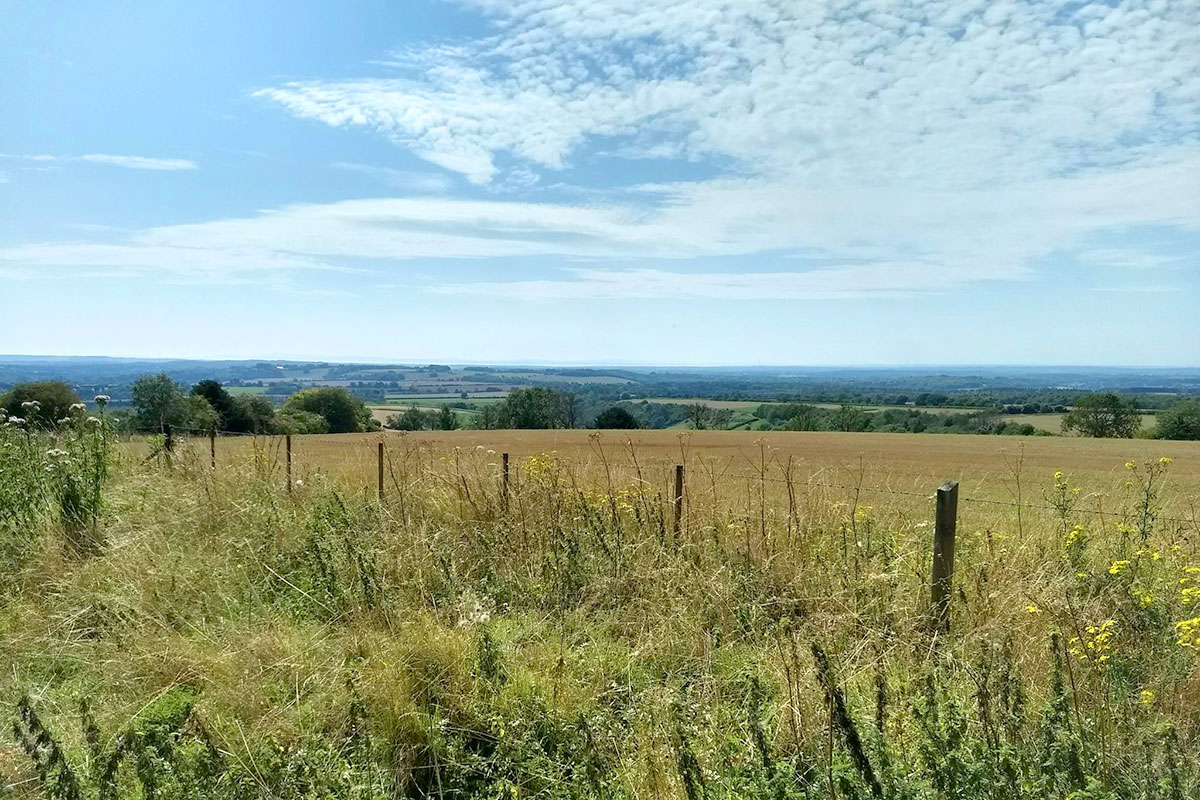 The last time I was here it was 6 o'clock in the morning back in 2011 and I wasn't paying too much attention to where I was going, just following my SDWIAD partners. All I was thinking at the time was that the 'big hills' were stacked at the far end of the route which meant I mentally dismissed the rolling hills at the start.
This is to sell the Winchester end short. Yes, it's not as steep, but the hills are most definitely there, just in a much more rolling form. You don't ever get up onto a ridge and stay there for any length of time. This means of course that big open vistas don't necessarily open up either but fortunately it also means there is at least tree cover. With a day like on Sunday, we needed that.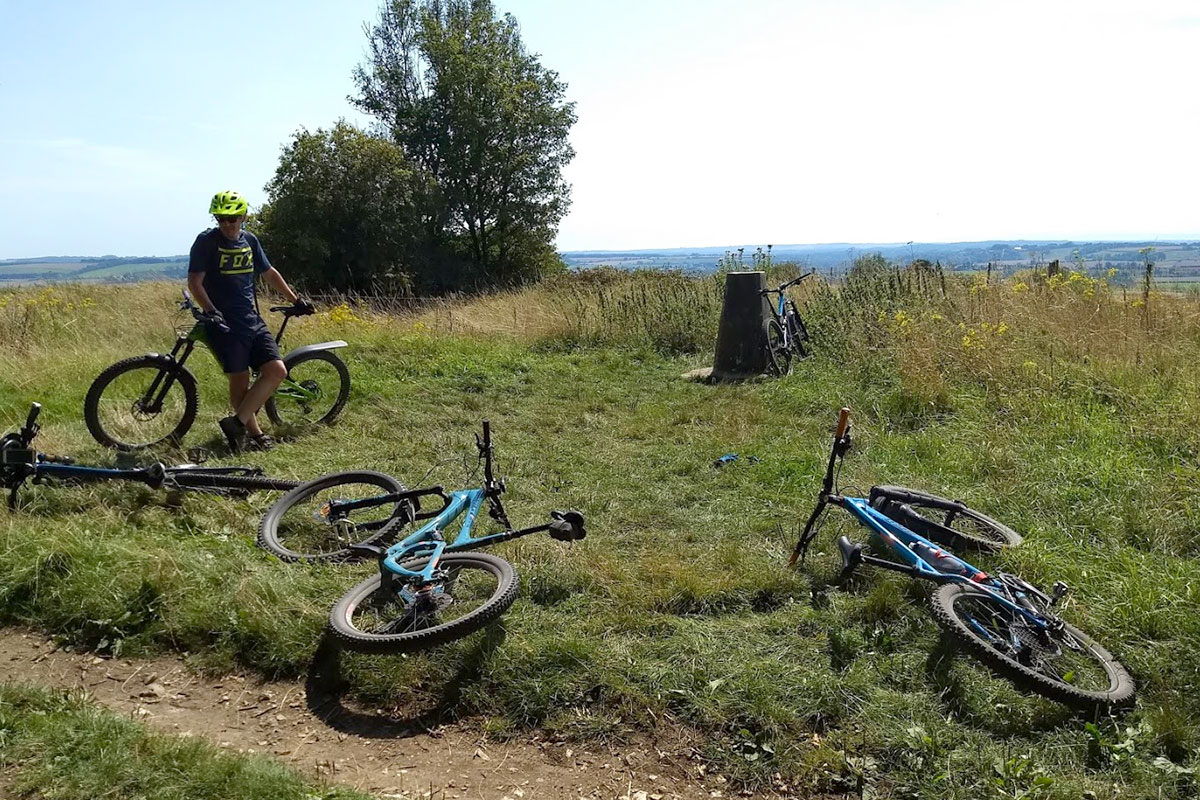 So we followed the classic South Downs Way route, only getting slightly off-track at the Matterley Estate which was still clearing up from the Boomtown Fair event two weeks before. It looked like quite an undertaking.
Back on track, our main concern was to find our lunch as we followed the South Downs Way to Beacon Hill and then the long tarmac drop into Exton at the bottom of the Meon Valley. It was at this point that I realised that on his Lime green bike, with his Lime green crash helmet against Lime green vegetation, MarkJ was effectively invisible to oncoming traffic!
Here, the Shoe Inn beckoned and we gratefully found a table in the shade in the packed pub garden for a leisurely lunch. Mark, Brian and myself hadn't stopped all morning so it was a relief to catch our breath. A pub garden is about the best place to be on a hot summers' day after all.
Still, we had plenty of riding left to do and of course, following the SDW from Exton means it's going to be uphill from there! It's strange to report how our maximum elevation was only 530ft for the day, yet we were all pretty tired by the end having notched 3000ft of climbing… it's those rolling hills you see?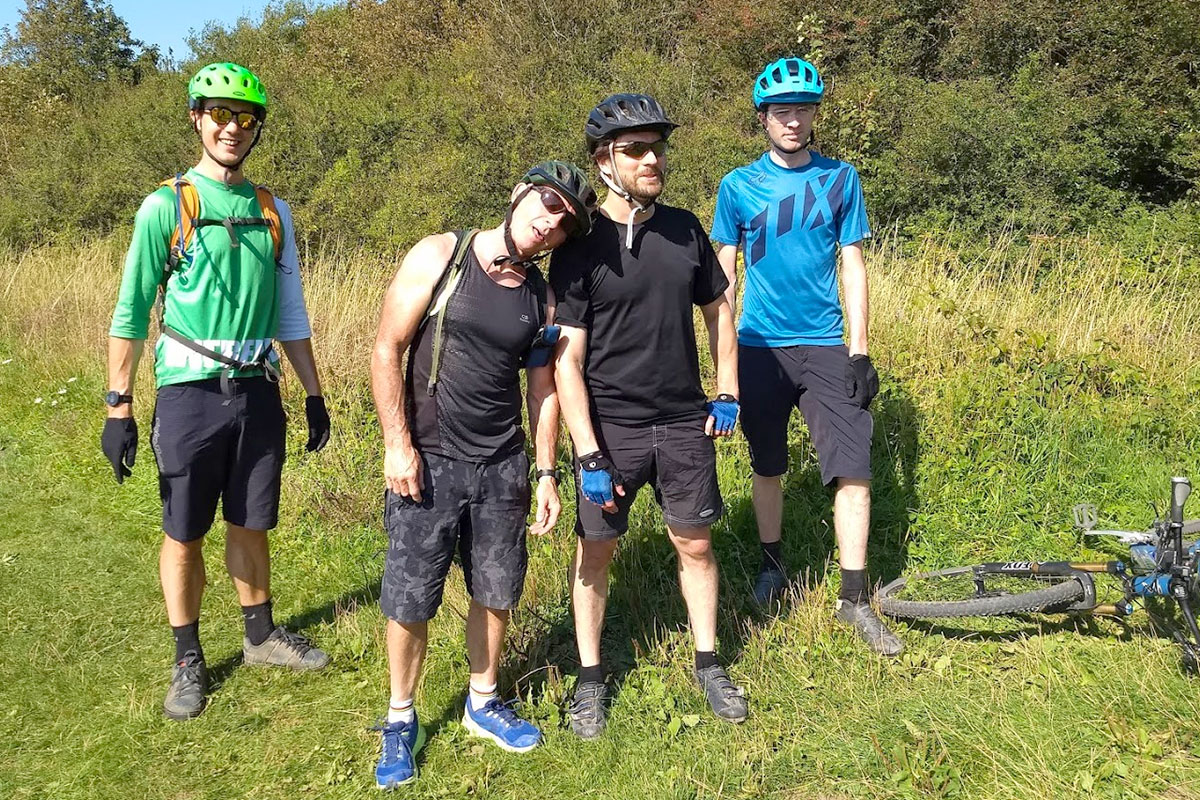 I quite like that sort of thing. Quiet country roads and easy rolling bridleways suit me just fine some days and with the heat it still provided plenty of exercise. This included a nice steady climb up to Old Winchester Hill, part of which we were forced to hike a bike (apart from Elliot who made a 17% grade look do-able, if not easy).
We didn't leave the South Downs Way until Meon Springs, where Karl generously stood us refreshments at Whitewool Lake which also afforded us shade and the chance to watch some fly fishing. It also transpired to have another family connection – my middle sister in law goes there with her family to camp in a yurt for a week each year, unbeknown to me! It's a Surrey thing..!
Saddling back up, we headed off for a little mild bushwhacking through Hen Wood and the start of our loop back via West Meon on a mix of tarmac and nice dry trails. I was enjoying myself on the quiet roads and would have happily spent a day on the road bike in this part of the world too. To be honest, at times it felt like I was in the middle of a Countryfile episode as we passed multiple fields being busily harvested.
Eventually we closed our loop just west of Cheriton but still had to another five miles or so to retrace our earlier steps back to Winchester. The climbs were getting draggier but I was feeling unaccountably great and just got on with turning the pedals. Must be all that commuting I've been doing.
Eventually, a hot, sweaty and tired bunch of riders rolled back in to Winchester around 6 in the evening with 35 miles under our wheels. All that remained was to catch a leisurely restorative pint and to people watch near the Cathedral, which could easily have turned into a few more if I hadn't had to drive home!
What an excellent day out. Profuse apologies once again to those we kept waiting and thanks to Karl for organising. It's reawakened my interest in the South Downs for sure…