Ride Report – Sunday 26th May – Glorious ride
Today we were blessed. Blessed with good company, good weather and good spirits from all who I passed.
16 of us started from Bocketts today, 4 Femoles and 12 Moles, pretty much a record in terms of Femole attendance. Old faces and new faces stood side by side with the expectation of a sunny ride to Holmbury/Peaslake and back. I'll attempt a role call but forgive me if I get it wrong. Starting were, me, Matt, Lloyd, Kev, Jason, Keith, BigAl, JonH, Yvette, Albert, Jo, Ginny, Chrissy, James, Elliot, Andrew and JR picked us up on Admirals track (making 17…..)
The plan was simple, to head over  to Holmbury via Hogden Lane and then let BigAl take over to run us round a few choice trails and drop us down into Peaslake for tea and cake.
Starting by heading up Admirals track we made quick progress to Poleden Lacey and Matt vetoed Hogden Lane as a climb so we did the downhill and the headed up Pampaloma to pick up Yew Trees up to Ranmore. From there we headed along Badger run and Collar bone before heading into Trouble in Paradise.t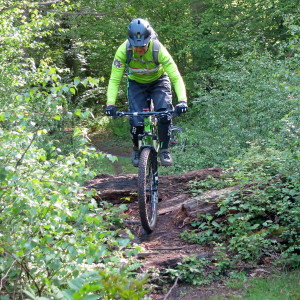 The lof roll always allows for some to show more daring than others. BigAl cleared it and as I was at the back I'm not sure who else made it. This picture of Andrew shows a trailing leg so I'm not sure if that was a clean clear or not!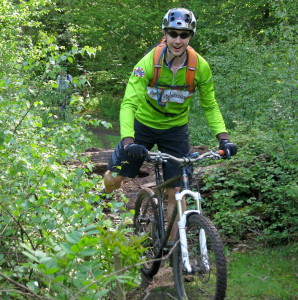 Up to the log roll the trails seemed remarkable dry considering the rain we have had this week but once over that section it became apparent that mud was on this section abundance.
We slid and slithered through this as "summer tyres" failed to find the grip. It seemed very localised and we hit the main bridleway and regrouped before Short and Sweet. This proved that there was mud again as we hit the lower section and found mud again.
The Abba Zabba complex was next and I think this was a first for the Femoles. BigAl and JonH showed how it should be done while the rest of us headed down the less gnarrly route with me shouting instructions back. Everyone cleared the second run and we by passed Blind Terror and Numbskull. Crossing the road was interesting as there were a lot of Roadies out but the GrandMole saw us across safely although the wet chalk entry caught a few riders out. Blind Terror 2 was bypassed by me as I led the Femoles to the right after Chrissy took a tumble on the main rooty descent.
Regrouping at the bottom of the White Down road climb we headed across Abinger Roughs and on to the Raikes Lane bridleway through Paddington Farm. Turing left at the Volunteer pub we headed up to the Youth Hostel and then made our way to the start of Yogurt Pots. James suffered a bit of a root interface moment leading to some serious bruising but we reckon the pie and chips diet for a few weeks should add to his padding.
BigAl then led us round some sweet single track with "I should CoCo" being a major part of it. Here I found that Jason P, formally Jason , the big ring basher was broken. Too much work and too much partying without enough rest seemed to be the main cause. We turned him right tat the road to roll down to Peaslake store to refuel while the rest of us took in BKB.
I have to say that I ragged BKB on the way down setting as PB on three of the strava sections. Not sure how much faster I could go on the Spearfish as I got a bit out of shape on a couple of turns. But it was glorious! Oh……people, please learn how to brake…..that last "berm" is a joke.
Hot chocolate with a triple choc shortbread AND a pain au raison were my choice for suitable trail food as we enjoyed the sun and chatted about bollox as usual. Bike Beans Cafe seemed to be doing some cheeky guerilla marketing with a flag outside the Village store.
With some colour back in Jason cheeks we headed homeward via Rad Lane and then while I was at the back someone chose White Down climb which, I might add, the Grand Mole failed to veto in time. In fairness I think the Low Med climb had been done a bit too much recently so all in all it was probably the right choice.
Reverse Collar bone and Badger Run saw us heading down Yew Trees and up under the twin Bridges climb back to the car park. I recorded some 26 miles on my ride and a rack of PBs along the way. Glorious ride and excellent to see some many Femoles out as well.