Ride report: Sunday 27 November – Hub deep in leaves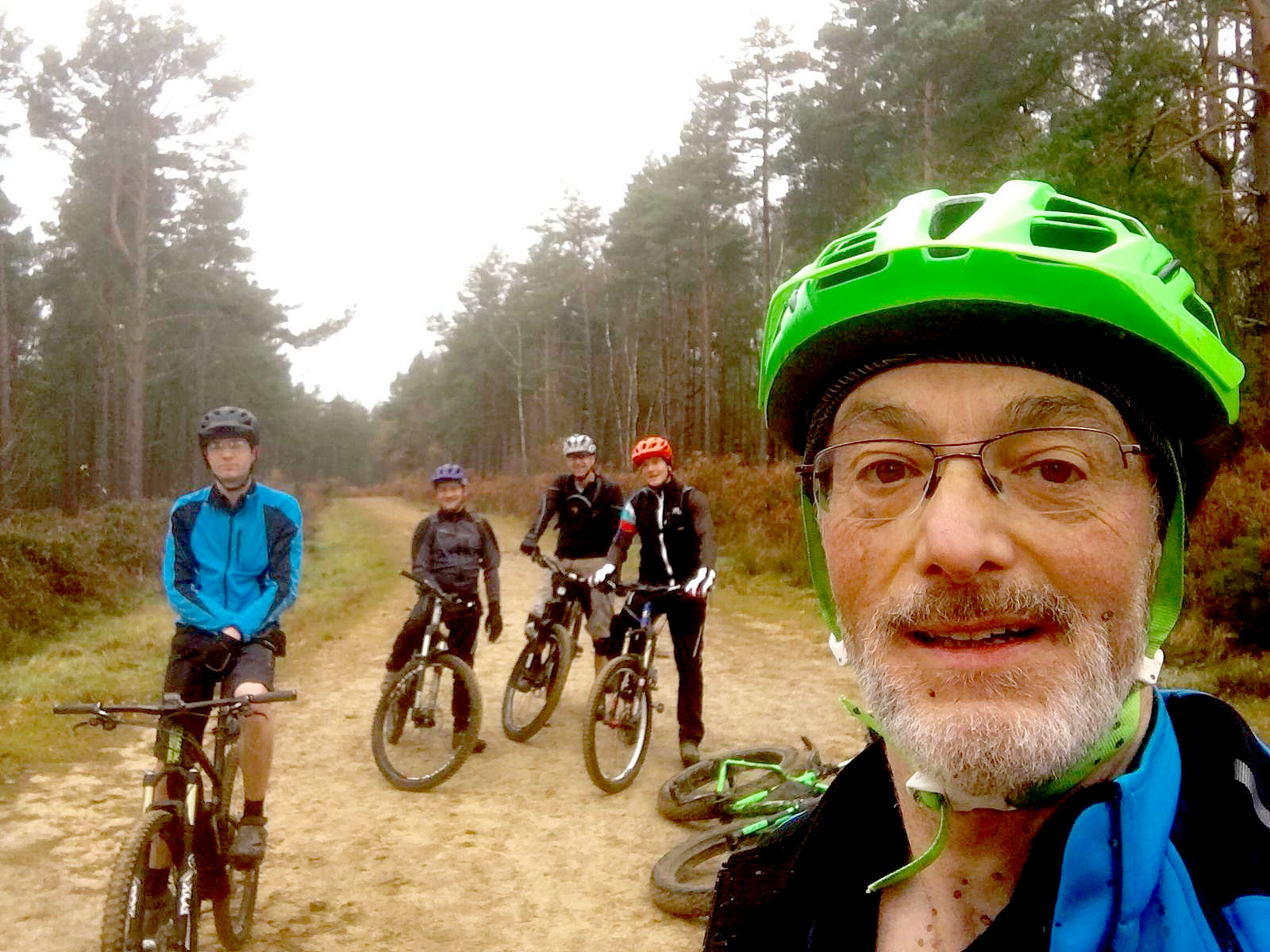 Surrey is one of the most wooded counties in the country apparently. Which means that come year end, there's a lot of leaves about…
In contrast to the hoped for cool but crisp sunshine, today turned out to be a dank late November day with a misty feel that barely lifted all day. To lift our spirits and stretch our legs, we decided a long ride over to Peaslake was just the thing, so a hardy core of JohnR, Lloyd, DaveW, Elliot and myself met up at Bocketts Farm this morning.
My third puncture of the year from an off-road commute on Friday was a thing of the past once I'd topped the offending tyre up with fresh Stans yesterday so I was all set, if a little lacking in energy and enthusiasm. We headed out along Admirals Track, through the Ever Lasting Puddles up toward Yew Trees, only momentarily confused after Lloyd had originally mentioned the Youth Hostel. We thought he meant the one at tanners Hatch but it turned out to be the Holmbury one he was referring to. Since none of us really had the urge to tackle the Tanners climb this came as a welcome relief.
At the top of Yew Trees we navigated past a large group of trail runners and headed on our way, finding that the leading runners weren't too far off our tails as we paused at Ranmore. Trail runners weren't the only ones to catch us there as Graham and Nick arrived and then shortly after, Jonesy, TonyD and the Gnarr crew turned up as well. You just can't go anywhere without meeting people you know!
Each group were heading in different directions so after a bit of a chat we were on our way again along Badger Run, Collarbone and on to White Down. Having been distracted in conversation with Graham and Nick I headed off in pursuit of the Moles along Wire in the Blood but found no sign of them. Pressing on along a leaf covered Collarbone, I started to wonder where they'd got to and was fully expecting them to catch me from behind, but on reaching the end at White Down there they were waiting patiently for me. They had missed out Wire In The Blood and the subsequent slight but significant time saving had kept them ahead of me and out of my sight all the way along Collarbone.
White Down is notorious for its chalky surface and at this time of year, in this kind of weather, is best avoided. There is a parallel grassed trail alongside which is a better bet for grip and another grassy path that spears off across the field to the track that leads along the valley floor from the bottom of LandRover. Lloyd found out very quickly how slippery chalk can be as we turned toward the grassy paths and was promptly dumped on the unyielding ground, fortunately with no harm done. DDub and Lloyd picked up the parallel trail while John led Elliot and myself down the field, with us all meeting up at the gate at the bottom of the White Down descent.
On to Abinger Roughs, strewn with enough swirling leaves to film a car advert and then the Paddington Farm climb up to Holmbury. Having reached the Hill we climbed up to the Trig point but didn't hang around long as it was rather exposed. Instead, a relatively relaxed run down Yoghurt Pots followed, then a bit of meander through the woods down to the Reservoir and the ever consistent Barry Knows Best, with plenty of mudguard buzzing from my rear wheel over the jumps and dips chasing DDub to the bottom.
As we rolled into Peaslake we found Darren just leaving but he didn't take much persuading to join us for his second cuppa in the bus stop. Today a token cheese straw from me was followed by a nutty fruit cake that turned out to also contain a fair helping of banana, one of few ingredients on my banned substances list. The cake was fine but I had to block the unpleasant banana smell while I 'enjoyed' it.
Soon after leaving Peaslake via tarmac toward Rad Lane, with Darren joining us, I made a rookie error in conversation with Elliot. As I looked over my shoulder to check for traffic, our handlebars locked and quickly dumped us off our bikes, Elliot into a hedge, me forcefully onto the road itself. I landed first with my (padless) knee, then my shoulder and then smacked my head down hard, proving that even if you only need a helmet once in five years or so, that one occasion will make wearing a crash helmet seem like a very smart move indeed. I gladly, if painfully picked myself up without having suffered significant harm but if someone ever offers to drop you onto tarmac at approximately 15 mph or so from the height of a bike, I'd suggest you decline.
Rad Lane took us down to the A25 at Gomshall a route positively buried under a swath of leaves and a downhill trail that still requires pedalling for much of its course. Retracing our steps across Abinger Roughs saw the impact of our days efforts start to kick in as we continued the wade through leaves back toward White Down. The climb was opted for in preference to High Med of (whisper it) MacPhersons but there was no avoiding the need to get back up to the Ranmore ridge. My PR was untroubled as I plodded up behind Darren and DDub, who managed to converse freely all the way while I saved my breath simply for turning the pedals.
Darren peeled off to enjoy Wire In The Blood Pt 2 once we'd followed Collarbone and Badger Run, while the rest of us headed down toward Bookham via an almost concealed Ricin Beans that is currently buried under a thick layer of – you've guessed it – leaves! It's no less fun for all that, just slower and easier to miss where the trail goes (I found this out first hand last Wednesday night – it's even harder in the dark). We finally managed to pass the Tanners Youth Hostel, after all our confusion at the start of the ride and all that remained was to drag ourselves through the Polesden estate and along Connicut Lane to home.
In all, about 26 miles for me, a few bruises and a bloody knee.