Ride report: Sunday 28 February – The Apocalypse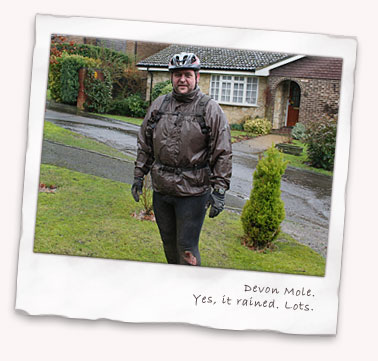 If you'd been paying too much attention to the dire warnings from the weather people you might have been forgiven for not even bothering to get out of bed today. But with the knowledge that some of our brethren were competing in the FoD Mini Downhill race and the fact that DevonSi (one of our founding fathers) was joining us for a ride it seemed getting out was the right thing to do.
There were six of us in the end, DaveC, DevonSi, Jez, Mark (somewhat improbably but very welcome) and Adam, a new rider joining us from Windsor. Oh and me of course.
To be honest, it was only the commitment I'd made to Dave to meet Simon that brought me out. Last night saw heavy rain, and the morning saw my front lawn waterlogged and rivers of water running down the side of my road under a continuing deluge. I'm not sure if the threatened inch or more of rain arrived but it certainly looked grim.
Resisting the urge to head straight back to bed I began putting my cycling gear on with the air of a condemned man. By the time I was outside and on my bike I didn't feel particularly happier but after a fast blast on the tarmac to warm up I was pleased to see at least some people had arrived at the car park.
So it was a case of practicalities taking precedence over playing; I guess with March upon us we'll soon start to get more friendly trails but for today it was wall-to-wall water. We decided that the Box Hill route offered the best source of cake and coffee but it certainly wasn't the path of least resistance.
First off, our submarine tramp along Admiral's Track which is completely covered with puddles a good six inches deep. Simon was unlucky enough to catch a hidden rut and was sent sprawling full length into the brown liquid but to be honest we weren't a lot drier than him. And we'd only covered about a mile!
We put our heads down and plodded on toward Polesdon, grimly facing the biting wind, steady rain and torrents of water rushing down toward us. Our run down to Yew Trees was slightly curtailed by a walker coming the other way but she probably saved us from ourselves as the surface was treacherous.
At least the subsequent climb up to Ranmore offered firmer ground as it's basically loose flint and rock but there was a constant drag from water flowing down the track. I had a wooly hat on and was in two minds to take it off but decided to stick with it which turned out to be a good thing as the chill factor was surprisingly high. When we were moving it was fine but stopping for any length of time soon brought the core temperature down.
DaveC punctured as we headed toward Denbies which delighted him as much as you'd expect on a wet day at the end of February. After some puncture faffage I was thanking my prescience at keeping on my hat but even so we were cold when we set off again.
Rather than float down through the vineyard we took the gated route round the edge, by the end of which our water dousing was complete. Soaked. To. The. Skin. But strangely, only cold rather than hypothermic!
To warm ourselves up a cup of coffee was in order but that meant another climb up Box Hill for the third or fourth time in recent weeks. I loathe this climb as it's never impossible but then again, never rewarding. It's just there. Last year I think we did it about half a dozen times but recently with all this rain it's a useful route since it is rough flint and chalk rather than clay.
On Friday I managed to stop halfway up to take off the sleeves on my Phantom jacket as I was overheating. Taking off my prescription glasses which had steamed up I put them down and promptly stepped on them! Fortunately I managed to get the broken arm replaced for just £6. Today I had no such problems with overheating so was forced to grind up on my singlespeed with Jez and Adam in close proximity.
We were one of only a few visitors to the Box Hill Tea Room where I refueled on my traditional and much-recommended date slice, breakfast of champions and carbo-crutch for those like me who are further from the white-hot crucible of competition.
Happy Valley (or Juniper Bottom, or whatever) was a spiteful descent today with icy shards of rain battering us as we headed down. With roosters of spray thrown up behind us, low over-hanging branches and the usual percussive patter of bikes skittering over exposed flint I found it quite tiring.
By the time we'd reached the bottom Mark was frozen, but since he had summer gloves and shorts on that's hardly surprising. He left to make his way back through Mickleham and by now may have actually defrosted. Fair play to him for joining us today anyway.
The rest of us were not likely to be out too much longer either but we climbed up to the Mickleham Gallops on the chalky ascent near Juniper Hall. The recent miles I've managed seem to be gradually paying off as I managed to at least make steady progress. Maybe it's the fact Tony, Jem, JohnR and DaveW weren't around to mess with my head by taking off up the trail at a rate of knots though. Those guys. Make me feel old…!
A short tramp along Stane Street brought us to the top of Alsation which was disappointingly slippy today. I had to pedal about three quarters of it and it's downhill! There's just no traction for the front or rear down there at the moment but then I guess we'd usually pass on it at this time of year anyway.
At least I got to compare the effects of running a Crud Fast Fender with those who were sans mudguard today. Simon was using Thomas' Cove Handjob, which may be a lovely bike but would probably be improved with a mudguard. Adam and Jez were similarly covered in mud too!
The end was near though as we worked our way back to Bookham via the Thorncroft estate. Friday had the river Mole up near the top of the bridge crossing but it's subsided since – I thought we'd be riding underwater along there today. We headed up to the slopes of Thorncroft vineyard which offers a short sharp climb at the best of times. Today, with the flood it was gruelling as there was practically no grip!
By the time we'd returned to the Bockett's car park I estimate the ride was about 15 miles or so. My total from home worked out at 18 miles so that sounds about right. The main achievement though was just to get out on the Hills in weather that's unlikely to be worse at any point this year. Congratulations to all!
Hopefully the Mini Downhillers will have put up a good showing in the Forest of Dean too.
And, in case you're interested, it looks as though there's a dry week coming up. Let's wait and see…