Ride report: Sunday 29 September – Holmbury
Al made the most of the dry, sunny, day to give Blind Terror a proper run.
12 Moles turned out for today's ride. Me, Kev, Lloyd, PaulM, Al, Jez, Ginny, Karl, DaveW, Sub3Andy, JR and NickJ. We had the promise of a dry day that might even show us a little sun. Trails showed the signs of the recent rain and the usual places were a muddy mess but they only showed the promise of what is to come!
Al had the plan today, to ride to Holmbury and refuel in Peaslake. With no dissenters we went along with it. We made swift work of getting to Ranmore and headed to the Abba Zabba complex for the first bit of gnar. With no refusals and a run down Blind Terror for me we pressed on to the A25 and then up towards the back of the Volunteer. Here we encountered a couple of right Cocks. Dorking Cocks in fact, namely Matt and George.
Heading to Holmbury we took in Yoghurt Pots and Telegraph Row (Secret Squirrel start) before heading to BKB for the usual fun.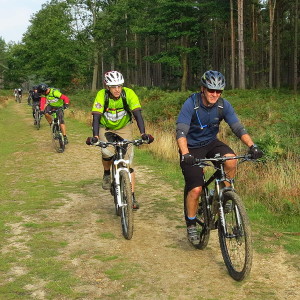 At the Peaslake stores we refuelled and posed for a photo session.
(can you tell this is a brief ride report?)
The homeward leg ending up with a climb up White Down in the glorious sun
After a wrong turn and an overly concerned GrandMole we regrouped at the top of Hogden Lane (despite dissenters) and bounced our way back home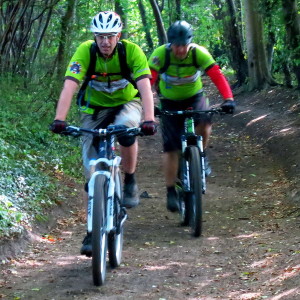 We had our customary meeting with Graham and Nick before returning to teh car park at Bocketts. A great ride in the Autumn sun!