Ride report: Sunday 30 October – Classic Leith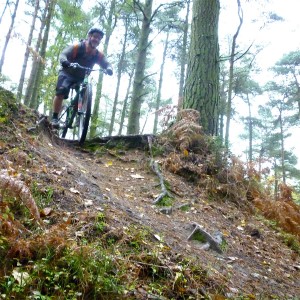 After a week of road riding – some of it in very damp weather it must be said – today it was back to the mountain bike for a ride over to Leith Hill. This was to be our classic run from Bookham to Leith Hill Tower which usually packs in a variety of challenges and so it proved today.
The trails are slowing getting damper and damper but so far remain essentially mud-free, if a little soft. Actually I like these conditions as the leaves that are coming down haven't yet started to get too slimey and as I'm still running a Maxxis Aspen on the rear of the Five I was pleased that was the case.
At the car park we had a couple of new faces joining us, Ross and Steve (who is a friend of MarkyMark's brother Garry). The rest of the group included DaveC, Tony, Lloyd, Kev, Ray, MarkyMark, PaulM, MarkW, 'Hot' Karl (look it up on Urban Dictionary at your peril!) and DaveS who was making a welcome Sunday return after a nasty shoulder injury last year. Lloyd was trying out his brand new carbon 2012 Santa Cruz Tallboy 29er for the first time and I admit I was envious, especially looking at his white American Classic wheels.
A quick run along the Admiral's Track showed our winter mindset is slowly readjusting with the clocks going back with very little puddle mincing as we encounter the odd small lake along there. At Polesdon we headed for Hogden's Lane again and took in the fast top downhill section before turning left onto Pamploma and on to the climb to Ranmore. In between the bits where we stopped for a chat the pace was reasonably brisk.
I'm really enjoying my weird tyre combination if I'm honest, the 2.25 Aspen seems to grip surprisingly well in these mid-dry conditions, far more than I ever expected. It helps that the MudX is in charge up front I think but I never felt any energy-wasting slip from the rear today even on steep climbs although it won't be long before Surrey clay puts a stop to that kind of behaviour.
In the meantime, we pressed on, along Badger Run and then down the Land Rover descent which is very washed out on the top roots. Near the bottom I saw a rider on the ground and feared the worst but it turned out to be Ross attempting to get air into his tubeless rear tyre.
As it turned out, there was no latex in the tyre at all to plug what was a fair sized cut to the tyre face. It could easily be plugged with a tubeless repair kit but without the goo to seal the gaps it wasn't going to work right there and then. So it was off with the tyre and in with a new inner tube I carry for this sort of thing. It's quicker to type that than to actually do it though as I managed to prove…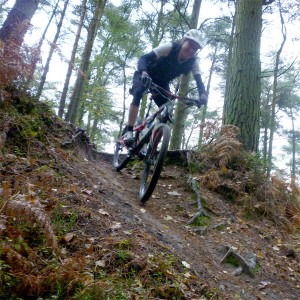 Back underway again, we crossed the railway and skirted Westcott village before dragging ourselves up the Rookery climb to finish gasping like stranded fish at the top. For me there's no pleasure in the climb but it is a necessary evil.
Having caught our breath it was onto Wolverns Lane, which I do love riding, either up or down. Starting plumb last I got into spinning mode and was lucky enough to catch and pass some of the others where there's enough space to squeeze through(!). I love the whole run up here, which is very twisty and mixes in short sharp uphill stabs with tricky noodly bits. I think my HR was at 170-180 for most of the final third leading up to where we traditionally stop for a breather, by which time I'd managed to catch the leading riders.
Continuing on I was really enjoying the undulating trail. I know I'd have been just as happy on the Inbred singlespeed but today was definitely a good day to be on the Five. We kept the momentum going on the long run up to the start of Summer Lightning before then turning into the trees for a journey through the bombholes to the top of Deliverance.
I thought briefly about Deliverance but it felt a bit early in the ride for that so we all pressed on to the cricket ground, passing Toby from the Dorking Cocks who was busy building the bonfire for next weekend's firework display. At this point myself, Steve, DaveS and Tony got separated from the main bunch as Dave was leading them off to try (hush hush) Chicken Wings but thanks to the benefits of Dave's new two-way radios we arranged to meet them at the Tower.
It's a good blast down to the start of the Tower climb and then of course it's a sharp, spiteful drag to the Tower itself but DaveS, Tony and myself all managed the climb without drama. I didn't see how Steve got on with his first attempt as he was behind us at the time.
At the top we got chatting to a guy who designed and built off-road, hand powered wheelchairs as he had one there which had been powered up from the Starvall side by an able bodied physio. It looked pretty clever, with 20″ mountain bike wheels and tyres, disc brakes and Rock Shox rear shock showing how incredibly versatile mountain bike kit is these days.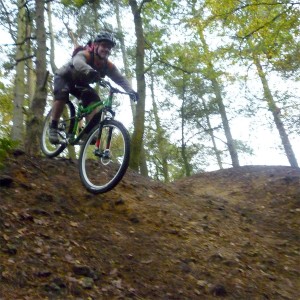 After some of us had finished stuffing improbably large pieces of cake into our mouths (and we'd had a nice chat with MarkW's wife Danielle, who runs the Surrey Massage Clinic), we headed for home, starting with a drop into Personal Hygiene. A new line appears to have opened up which takes you to the right of the normal run-in. The involves a sharp – but rollable – drop at the top before picking up the normal PH line but it surprised a few of us who found out quite late that this wasn't quite what they were expecting.
Pretty soon we had made our way across to the Cricket Ground again, from where we headed through the trees to Deliverance. Big Al and MarkW had disappeared down it when I arrived while everyone else was planning to move on but I decided I would give it a go too.
It wasn't the cleanest run down for me, with a big wobble on some roots thanks to not controlling my speed sufficiently at the top but it didn't feel too bad. I think if I'd stopped to look at the top I might not have tried it today but got away with it anyway.
Next was a nice quickstep down Waggledance which I think is under-rated compared to Summer Lightning. I really like that Waggledance actually has trees for a start and enjoy the way it focusses on flow at lower speeds whereas Summer Lightning can feel a bit 'donkey' if you're not going fast enough.
But Summer Lightning has its own charms too and it felt very good today. I gave the riders in front a descent gap and then, thanks to Tony's slightly pressuring bell-ringing behind me, I really nailed the trail, making full use of the Five, the MudX's front grip and the berms to hammer all the way down all three sections at high speed, without interuption.
We carried this on to the descent of Wolvern's Lane, with Al and I leading off and not stopping until we got to the top of the Rookery, by which time we were both exhausted. Al's riding was relentless as we flew down the trail and he finally managed to open out 20 yards or so on me as we neared the end. Prior to that it had felt we were quite well-matched, I especially loved the jump as you come down the bank back on to the sandy Wolvern's Lane itself, where I got to save my tyres by keeping them both in the air – briefly!
That was really intense riding.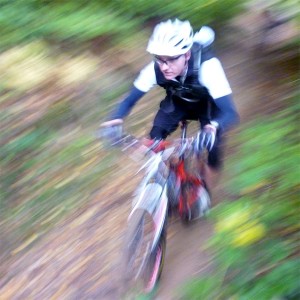 Back down the Rookery I had to take my hands off the brakes to keep up with Dave as you thread your way through the narrow leaf and debris free line to the bottom and then we crossed back over the A25 into Balchins Lane and on down to the approach to High Mediterranean. This was dispatched at a reasonable pace while I was chatting to MarkyMark but by now time was getting on.
From here we started to discard riders as people peeled off to get home. First MarkW, then DaveS, then PaulM took their leave, PaulM after a very enjoyable descent down to the A24 via And Then There Were Three. I've wised-up to the fact the leaves are currently obscuring parts of the trail and didn't take any wrong turns today but it was the sketchiest it's been for a while and the only time today I felt the Aspen was a bit floaty at the back.
I got a shock on the final, fourth section which I launched off one of the built up jumps as it seemed I'd saved a bit more tyre-wear but it was fine really.
Our final effort of the day was to climb up Crabtree Lane and take Jem's Favourite run along to Norbury Park. This had several of us in the big ring cranking out a quick pace as we swished through a carpet of New England style leaf fall and had my HR peaking around 178 at the end.
The last mile or so saw the group split a little as I was keen to pushon with the time nearing 1:00PM, so apologies for getting to say goodbye to everyone on the ride. I hope you all enjoyed it as much as I did over the course of 23 miles or so (my total mileage to my house was about 26 miles).