Ride report: Sunday 30 September – Something old, something new
One of the problems of leading big groups is that it does tend to restrict the amount of exploring and experimenting you do, so as not to lead anyone on a wild goose chase. With some of the quicker riders doing the Brighton to Brighton 101mile sportive today, I decided we'd try a little bit of pathfinding for a change.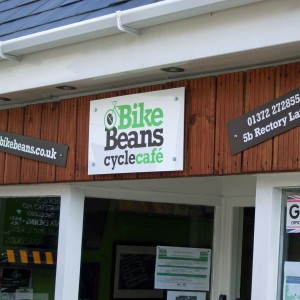 It wasn't a totally experimental ride as I knew the start I wanted and I knew the end I wanted but the "in between" needed some work. Tracklogs is a great bit of software and with the 1:25000 Explorer OS maps of the area I was able to mainly get the ride I wanted. On my simple Garmin Edge 205 I can follow a simple line and know whether I am on course… well… usually!
Anyway, the plan was to start as if we were heading to Reigate but then loop back and end up at Epsom Downs to do the return leg of our Epsom Downs ride. Pure XC was my aim and I pretty much achieved that. Matt (yes, THAT Matt), Kev, LordonOne, JonH, PaulM joined me on the ride. As we were about to set off a group of riders appeared and I finally got to meet Jamie from Bike Beans Cafe with the promise we would pop in on the return route. More on Bike Beans in another article! I also got a greeting from another rider, who I didn't identify for a few hours!
So off we went, down towards Bocketts and across the A246 and down past the vines. At this point my nearly new Specialized Ground Control took on what I assume was a flint and started pissing latex out. Annoying so close to the off, I quickly reamed the hole before stufffing with a rubber thread and glue. Within about 5 minutes we were off again after a little bit of pumping. As Matt often says it can be quicker to repair a tubeless puncture than replace a tube. Luckily that was the only puncture of the day.
Up Alsation and taking in Life on Mars on the way to Headley. We then made a slight change and headed to Reigate in what would be reverse for us, but seems to be the favoured way for the Femoles. We set a brisk pace and soon crossed the golf course before taking a somewhat later left than I had imagined. 1:25000 maps can still be difficult to read! Either way we were en route and so far so good.
Crossing the common and woodland I caught glimpses of track we may or may not have ridden before and with Kev backing me up with simple Garmin mapping on his Edge 605 we more or less kept to the route I wanted. Crossing Walton on the Hill I was fairly sure we'd not been this way before but it could be a viable alternative to the Epsom Downs route on its own, as we soon picked up the bridleway that took us towards Tattenham Corner.
This was a surprisingly fast bit of track with excellent visibility. Soon we popped out onto the general race course area and started to loop round the course itself to get ourselves back down to the track we knew. With fast open track the GPS didn't quite update fast enough sending us into a few u-turns but we eventually pointed out noses down and popped out near Langley Vale Farm.
This now put us on familiar territory and we headed up to join Stane Street before another diversion down to get to Bike Beans. Jamie and his ride had made it back before us and it was at this point I realised it had been Graham who had said "hello" back at the start of the ride. We had a natter. We had some cake and drinks. It was a nice place to stop and chew the fat with the GrandMole almost going back for seconds. Anyway, I have more to say about Bike Beans in a later article so do stay tuned!
We said our farewells and headed back to pick up the old Roman road and pick our way back to Bocketts Farm. All in all a decent little addition which, with bit of fine tuning, will add a nice alternative and could also be made into a decent length XC ride. Now… it's not going to rain much before Christmas… right?