Ride report: Sunday 31 July – Martha's
Today was a great way to go for a bike ride. Temperatures in the mid 20's, not much wind and plenty of sunshine is a pretty good combination and with much of the trails still firm after the month of rain that was July 2011, things were looking promising.
It certainly tempted three riders to join us for the first time.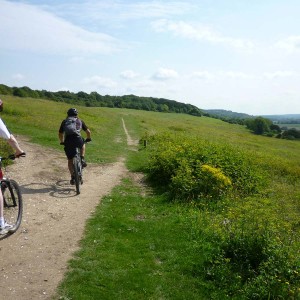 Starting from Bockett's we had Darren and Amanda on the Ellsworth Witness tandem, DaveC, Marky Mark, Garry, Ray, PaulM, Barrie, Tommo, Rob, Wayne, Dave and myself, fourteen riders and thirteen bikes.
It's always tricky knowing what people are comfortable with when you haven't ridden with them before, either from a fitness and stamina viewpoint or in terms of technical ability. We opted for a Newlands run as it gives a flavour of what we're about but has plenty of options to change things if we need to.
We set off out toward Polesden at a nice gentle pace, our mission today seemed to be to spread good karma to one and all as we've passed too many miserable people on on our rides recently. At Polesden we headed down under the wooden bridge and up the sharp climb the other side which is always an eye-opener for new riders.
But there was no rush, we all just plodded our way up the long climb to Ranmore. It felt great to be out, I'd ridden 67 miles on the road on Thursday but hadn't been on the singlespeed for a week. My new saddle I bought off LordOnOne was as comfortable as I remember Specialized Henge saddles to be but I was disappointed to find my clean and re-grease of the Thomson seat post had left me with a very noisy seat for the remainder of the ride!
At Ranmore we made our way along Collarbone, round the log on Trouble in Paradise and then crossed over to the Abba Zabba area where the tandem twins impressed the hell out of me by cleaning the tricky roll-in and stall-turn with ease. That's what riding in Canada does for you I think.
The rest of us took things more gently, noodling round the easier runs. I'm increasingly getting to like trying to just keep a flow going through all this complex and once at the top of Blind Terror 2 (where the oak in the trail is) I just rolled straight over and down. Best not to think of these things. It's a bit like going skiing and worrying about a black run. If you ski straight onto it and stop once you're on it it's too late to turn back!! But stop at the top and you never do it…
So down through the woods we went with mercifully no dramas – Wayne and Rob have clearly plenty of experience of riding these woods and [new]Dave was making the right choices to stay safe. We've all been there and are not mickey-takers (unless it's MarkyMark's mechanical skills) and kudos has to go to him for managing the full ride today which is as arduous as it gets.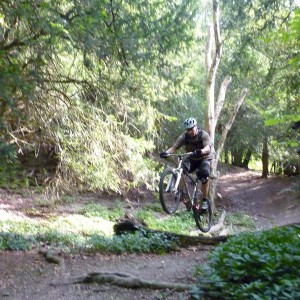 Moving onto the Abinger Roughs we took the cheeky (footpath?) trails around it which I enjoy a lot. Then it was onto our usual route toward Shere, crossing the A25 and continuing toward Gomshall. At this point, with a bit of time on our side we decided to try to work in a loop out toward St. Martha's Hill and Blackheath. It's not an area I'm particularly familiar with but MarkyMark seemed to have a plan.
After a bit of hacking, it was clear his plan was more of an idea rather than a finished bit of organisation but we went with it anyhow, since he seemed confident enough. The rest of us, particularly Barrie, were rather worried to see the ridge with Newlands on it (and for a few of us, our bacon butties) disappearing over our right shoulder!
But what little faith we had. Mark led us on a lovely sandy meander around the back end of Albury Heath and Blackheath, across a cricket pitch (with a game in full flow – oops!) through some lovely purple heathland and eventually – perhaps improbably – up to the long St. Martha's Hill climb, having negotiated some bracken that PIJ would have been proud of.
Well. I knew we had to climb to get to Newlands. And as soon as I saw the church sitting way up there on the I knew that was where we were heading. So it was with a certain reluctance that I, on my singlespeed, set out up the long sandy slog to the top.
It's hard work on the singlespeed with sand, exposed bricks and plenty of roots to stall a rider. I was going to show off when I reached the top after cleaning it in one long grind but then I remembered just how hard these technical climbs are on a tandem. With Darren and Amanda sitting there nicely rested it seemed a bit much to make too big a thing of it. Suffice to say I felt pretty strong on the climb but it ended at the right time!
From here we lost a bit of height bombing down toward the road, launching off whatever roots and drops we could find before picking up the final trail to the back end of Newlands Corner and some welcome refreshments and a lengthy pause.
The ride back was a straight forward tramp along the North Downs Way, I'm sure [new]Dave was suffering a fair bit as we didn't really slow much but it's non-technical and gets you back toward Dorking pretty quickly. We passed loads of walkers, horse riders, cyclists (with kids) and had a blast greeting them in as friendly manner as possible, with Amanda honking the horn on her handlebars regularly. Some people laughed and smiled and some people were grumpy but on the whole they were great, many amazed to see the tandem.
By the time we got back to Polesden the sun was beating down as it was a rather late 12:30 or so. But after I had peeled off a few hundred yards from everyone else and made my way home I had 28 miles on the clock which is a pretty decent run for a hot morning.
Hopefully we'll see the new riders again – I don't think we put them off!!