Ride report: Sunday 5 December – Slushy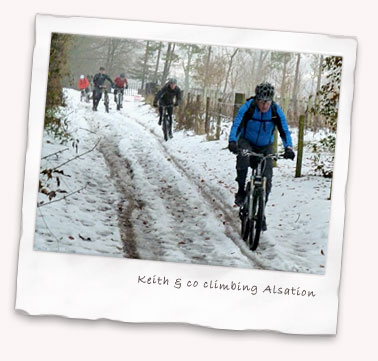 After a full month of barely-there biking – my last off-road ride was November 3 I think – I managed a return to trail riding yesterday in the slush of a Narnia-like Surrey thaw.
It's been a weird month. Mechanical hassles, partly including shot hub bearings have sidelined my bikes for part of it (and a big thanks to Biketech Mark for sorting my SRAM shifters btw). I've also been working flat out on a Muddymoles redesign which should start to see the light of day over the New Year. Oh, and I've bought a still-to-be-ridden-in-earnest road bike.
All that aside, it's nice to know the group has been busy riding while I've been away. Yesterday was another healthy showing as 12 riders pitched up for a snow ride to Reigate, plus Darren who was hoping to catch Adam. Unfortunately, Adam's car had broken down…
So, leaving from Bockett's were Lloyd, DaveC, Tony, D'Andy, Ray, Dick, Jez, Keith, JohnR, Al and Paul. It was great to see the D'Andyman again after his own troublesome six weeks and trying out an Ibis Mojo too, although I don't think it got a great test in the conditions.
We headed off with no great idea as to how feasible it was to ride to Reigate. John had been out the day before and reported terrible conditions but we probably got the better day as a lot of the snow had receded. But not by much.
Instead, we were treated to patches of mud interspersed with large patches of slushy snow which proved rather difficult to ride through. It was odd to find that the mud patches we'd normally treat with caution actually offered far more grip than anywhere else but we soon got used to correcting front and back end slides as we made our way down into Leatherhead.
Climbing up Alsation was hard work but if you didn't mind having to dab now and again progress was pretty good. We continued on to Tyrells Wood and then round into Headley village, past the Cock Inn and up to the car park. As we navigated our way onto the trails opposite, the path cleared a little under the protection of the trees and it started to feel like riding again.
The last time I'd been this way was during the half term week which had coincided with biblical rain on summer dry trails. The resulting swamp had made riding pretty miserable but now that a few weeks have passed there's a firm line again with a bit of grip under the mud. I'm hoping winter riding will improve a bit from here.
We crossed over the road near the Pfizer building and splashed through the ice-topped puddles before picking up the North Downs Way toward Reigate, all of us having an interesting time staying upright as we rounded the big field which was still deep with snow. The haul up the otherside was do-able (I think Tony took advantage of leading to clean it) but I had too much traffic as most of us stalled.
Then it was on to Colley Hill and a decision taken to try the Reigate Tea Room. We've all got a bit cheesed off with the prices that Urban Kitchen have been charging since they took it on, preferring Ali's Cafe on Headley but with no sign of her as we passed Headley we decided to give the Reigate Tea Room another go.
As it turned out, it wasn't too bad and while you can easily spend a small fortune there a careful hunt through the menu found enough to satisfy our discerning palates. So a qualified 'OK' from us I think.
The route back took us via the rather nice singletrack alongside the M25, just about clear enough to allow an enjoyable meander through the trees before we picked up the trail across the golf course. Our snow radar by now was getting more and more adept at picking lines round rather than through the deep stuff and somehow we managed to keep going.
At Tadworth Tony took us along the tarmac to Love Lane, a new path for us which proved to be a rapid hoon on a clear path down toward Horse P!ss Alley. I followed D'Andy who has lost none of his enthusiasm for committing to corners despite, or perhaps the result of, his enforced layoff.
The ensuing haul up HP Alley wasn't the most enjoyable experience but I was happy to finish in third place after starting plumb last by the simple expedient of keeping the wheels turning when everyone else needed to dab or careened gently into snow banks!
With that behind us we retraced our steps up to the Tyrells car park and set our sights for Life on Mars. This was the highlight of the day for me as we all managed to keep moving more or less in a nice flow through the snowy wood with enough pace to canter over the fallen logs but not too much that progress became a stop and start exercise on the brakes.
We finished up heading down Alsation with due caution, all except D'Andy again I think who seemed keen to at least give the Ibis a bit of exercise. He disappeared in front of Keith and myself at a fair rate of knots.
By the time we arrived back at Bockett's it was nice to see we had managed to cover the route at a pace that wasn't significantly slower than our usual efforts, despite the snow. I certainly felt it later on though as I could hardly keep my eyes open early evening and ended up hitting the sack early. I guess a month off the bike makes quite a difference after all!
Now if only the roads would clear I might be able to compensate with some road miles. Mind you, I'd missed those trails I can tell you…