Ride Report – Sunday 5 February – In the snow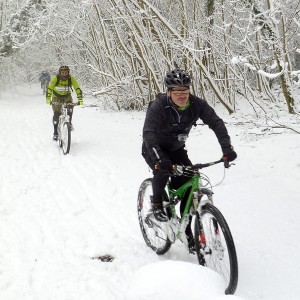 Well it was forecast for a long time and for once it was accurate. The snow came on Saturday night, ready for us on Sunday's ride although there was a definite thawing feeling about the morning as well.
At Bocketts Farm I met Matt, Tim, JohnR, Keith, Tony, JonH and a special appearance by Dandy. MarkMark also put in an appearance after meeting us at the back of the Leatherhead Leisure Centre having been delayed riding over from Epsom.
Conditions were best described as interesting and changeable. Riding up to the meeting point on the roads taught me early on that the virgin snow provided more traction but with much more resistance, whereas the tyre tracks were easier going but much less reliable.
Passing through Leatherhead it all felt a bit disappointing as the snow was much wetter and more slippery than it appeared; just ask Tony, our first rider of the day to slide gently to the ground as we headed down past Thorncorft vinyard. There really was nowhere to put the power down with confidence as either the front or back (or both!) ends of the bike could snap away from you abruptly.
It was a day for climbing though as at least you weren't going too fast when you came off. The slog up Alsation was more interesting than normal and much harder work, especially where the snow had drifted a bit in some of the exposed spots. Grip wasn't exactly lacking – no worse than a typical muddy ride – but with the snow covering getting deeper as we gained height you were either lucky or your weren't. At least you could leave your bike upright given the right depth.
Life on Mars was particularly interesting and I set off after Keith who seemed keen to trail blaze in the virgin snow. He seemed to have little problem with grip as I slid all over the place trying to keep up. Could have been tyres, could more easily have been tyre pressure.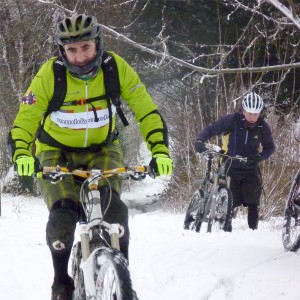 We said "Goodbye" to Matt who needed to get back early and slid on toward Headley. I was certainly feeling that our rate of progress was making Reigate look optimistic and with no sign of Ali's Cafe in the main car park we felt that Box Hill was a much safer option.
I had another off as I followed Keith and may well have been responsible to Tony downing his bike beside mine but it was all another laugh! At the end of this section we paused and Dandy produced a hip flask containing a subtle blend of the finest brandy and whiskey. It put hairs on your chest I can tell ya! Tony also failed dismally as a "chain-spotter" after announcing JR had a certain type of KMC bling chain, only to find out it was close to the cheapest 10sp one JR could find.
So we headed off again with me leading through the trees to find our way out of Headley via the two dip run. Coming up on the first slope JonH commented to me how were weren't picking up speed while going down but it gradually took us. Dandy very near took us both as he charged between the two of us in a typical "A&E or bust" display of cycling prowess backed up only by a unique fashion sense. No bones broken but a few shaken up and a few sideways moments.
We were grateful to find Box Hill open and cakes plentiful although it was the first time I've been there since the extensive redevelopment and increased seating. Most of it was snow covered but we got the idea over a warm cup of hot chocolate into which I dipped my flap jack (try it!).
We took a variety of ways down and one too many offs for me led to a very bruised knee and a need to take the flatter route home while some of the remaining Moles headed back up to Norbury park.
An excellent experience, with some great photos of the North Downs in the snow on Flickr.
Moles in the snow from muddymoles on Vimeo.