Ride report – Sunday 5th May 2013 – Bank Holiday Sun?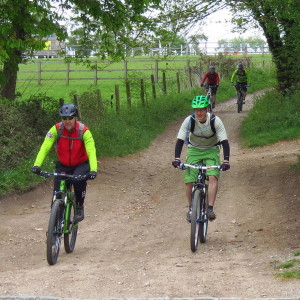 I thought I'd start with a photo of Matt and BigAl after they had completed a totally dry run along Admiral's Track. No using the banks, no jumping, just plain old riding with no puddles. How long do we have to go back in time to recall when we could last do that?
The roll call today included me on my Spearfish, Matt on my Gyro, and Karl on my 29er Flow front wheel (and the rest of his Ragly MMbop), BigAl, Andrew, Kev, Jon the Greek, JR, Elliot and we picked Lloyd up at Polesden. Not a bad turn out and no doubt helped with the promise of dry trails and sun on a Bank Holiday weekend. I can't believe I actually wrote Sun and Bank Holiday in the same sentence!
My plan was simple. We'd take a long route to Newlands and enjoy as many miles as possible. Admirals track led us towards Hogdens lane but we only did the down slope and then took Pamploma up to Yew Trees. Dry trails led to increased speed and I ran out of gearing chasing the Greek while those behind just saw our dust!
With Yew Tress out of the way we took the usual route of Badger Run and Collarbone before I had my first go at the log pile in Trouble in Paradise. I failed, but those behind me were spurred on to take it on and complete it, including Karl on his 69er for a day. Short and Sweet was next before hitting the Abba Zabba complex.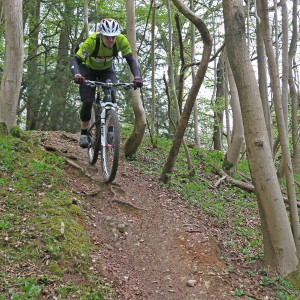 I think only Karl, Jon and Big Al took it on while the rest of us followed Lloyds example.
Karl was as "enthusiastic" as ever
Over the road to the Blind Terror complex and this was completed in a variety of ways but happily there was no repeat of the "Dandy Balls" fiasco from a few weeks ago.
From there, swift pace was made as we headed through Abinger Roughs and on to the back of Shere before picking up our route to Black Heath (yep, I'm quite vague on place and trail names at this point!). At Black Heath we improvised, with BigAl in the lead and me offering helpful grunts as to the correct direction, but in general we were able to navigate our way so those behind us felt safe and secure in the knowledge we knew where we were going.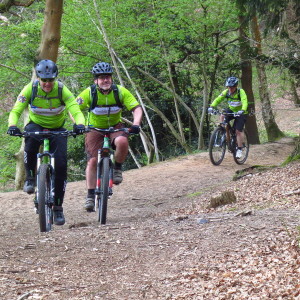 From Black Heath there can only be the climb up St Martha's before Newlands Corner itself. Happily I can report that I cleared it, albeit at a gentle pace but it's always a tricky climb with lots of bricks and other obstacles to look out for.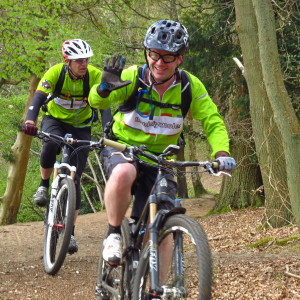 We'd covered a few miles at this point and I think we are always pleased to get this climb over with. We took the road up to the far car park of Newlands to stay away from the non-bridleway sections! Well almost…
Cakes, bins and bacon and egg rolls were our reward and they were well earned. We took about 20 mins to gather our strength before pushing back on towards home. At this point I made a suggestion that we do the "Effingham ending" and it was at that point my left knee started to give me pain! Exactly which ending got a little confused as I was informed the one I was thinking of was "trashed" but we could do the "Lovely Linda" finish and then road it.
And so we did. Linda was dry and loose at the top end, fast and furious the lower you went. No PRs for me but a bunch for some of the other Moles. Taking the road to East Horsley we went past the back of the Tennis Club and through the little tunnel.
The final highlights of this dry ride were a mad dash across the grass at Effingham Common which left Karl shaken on his rigid Ragley.
Overall I recorded 30 miles on a glorious sunny day and felt suitably knackered in the afternoon. Roll on Summer (please…)