Ride report: Sunday 6 February – puncture practice
Some days are better than others. We've been incredibly lucky for a long time regarding punctures but today that ran out with a spate of punctures thanks to the hawthorn trimming that the land owners seem to indulge in at this time of year. I'll resist the urge to say 'tubeless' as it's an expensive upgrade but it does tend to save a lot of aggro!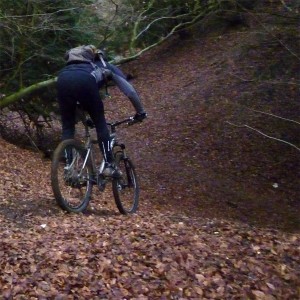 At the Bockett's car park we were taunted by the presence of Barrie and Tony in their roadie gear and on darkside bikes saying hello before they headed out on a lengthy road ride for a change. I'm thinking the headwind might play a part in how they look back on today!
Those of us heading out onto the Surrey Hills instead consisted of Jez, JohnR, Ray, KevS, Rob, AndyC (welcome back!), PaulM, Andy661, Pete and Greg (both new) and a hungover me. We'd decided on a Newlands Run at Dave's prompting on the forum but he wasn't able to ride today due to illness.
So off we went along the Admirals Track. It felt strange to be out on the MTB again after spending a few rides with Tony, Barrie and others on the road bike but I was running my new white Stans Crest rims on red Hope Pro 2 hubs and was looking forward to seeing if they performed any differently.
Actually, whether it was luck or the new wheels I'm not sure but the first hop off the tarmac onto Yew Trees felt great as the bike flew over the drainage gulley so a promising start. I found they felt significantly easier to spin and steer throughout the ride today and feel it was money well spent. More of that in another post when I've got some more miles on them.
After we'd reached Ranmore we headed down Badger Run and Collarbone on our regular route to White Down. A lengthy pause ensued while Kev sorted his first puncture, then it was up to White Down and along to through the trees to the car park, headed for Abba Zabba.
Both Jez and AndyC rode Abba Zabba rather well while the rest of us headed round the chicken run and up to the top of Blind Terror 2, which AndyC and myself tackled this time. After rolling into Blind Terror itself we then stopped to chat and try and help a trio of riders who were wrestling with an Avid Juicy that needed a new set of pads. Sadly I didn't have my spares on me which would have saved them a bit of hassle.
Crossing the road, the Numbskull complex flowed nicely under my wheels, whose MudXs were not getting much of a workout on the near-dry trails. You can thank me for that but be warned, when I switch to my summer Nobby Nics the heavens will open!
The rest of the route to Newlands followed our usual paths, but we had to stop twice more near Shere for Kev to patch two more punctures and for Jez to get in on the act too. We also managed to try out the VAR tyre lever that I mentioned last week and it's first field test was entirely successful even though it felt like I was demonstrating something on Price Drop TV.
The final climb up to Newlands was as hard as ever and everyone was glad for the chance to refuel at the cafe there, meeting Dave who'd driven over from Bookham. Can't get between a man and his hot chocolate! I accepted the opportunity of a bacon roll for a change which my hangover had politely requested but by the time we finally got going again it was very cold from the strong winds.
Heading back along the North Downs way we passed many runners who were taking part in an Endurance weekend, running 33 miles yesterday and another 33 today. Sounds like hard work to me. There's definitely a growing trend towards these ultra enduro things, or triathlons or whatever. It seems like a simple marathon is no longer considerate tough enough. It make out team efforts at various races look a bit feeble, but we know the truth don't we…?
The last few miles were spent with us all hoping there'd be no more punctures and fortunately that was the case. I was making sure I was riding within myself but still found I was tired this evening. That might have had something to do with the tree stumps I was digging out in the back garden this afternoon though!
All in, 26 miles for me door-to-door and a realisation – after being wind-assisted down the Polesdon Road at high speed – that the trees in the woods had protected us from the worst of the gales blowing today. It was probably worse for Barrie and Tony on the road…
Pictures of today's ride can be found on Flickr.