Ride report: Sunday 6 October – Leith Hill noodling
(Photo © Karl Attard)
Last time we headed over to Leith Hill we were joined by a very unfortunate Mr Woppit who ended up fracturing a couple of vertebrae. Very happily, he's on the mend (get well soon Mr W.) but this sort of thing does tend to weigh on people's mind. So this weekend we decided to head back to Leith for a more positive experience.
Al was this week's champion (as he often is) and come Friday he was pushing us to ride some 'rediscovered' trails over on Leith. When I say rediscovered, that depends on who you are. Certainly for me a lot of them either end up looking the same, or I have a goldfish memory, or I hadn't ridden them before! Possibly all three.
So the Mole collective assembled at Bockett's as usual with Al, Tony (on an un-pants-like Liteville 27.5 full susser but minus helmet), Dave, Kev, Lloyd, Jez, Paul, Andrew, Nick, Karl and myself, making 11 riders in total. This time there was no waiting for JR as he was in front of a PC buying Glasto tickets, so we got away reasonably promptly once Paul arrived.
The first few miles were pretty standard fare, along the Admiral's Track and up to Polesdon with nothing worth noting, other than that the weather was hazy, still and rather warm with temps eventually nudging 17°, not bad for the first weekend in October. We haven't even had an Indian Summer yet, since 'technically' they only get called that after the first frosts…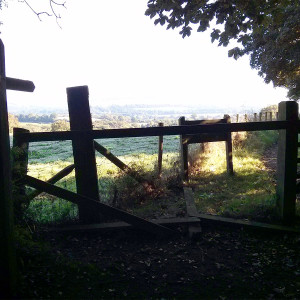 By the time we reached Yew Trees though we were halted by the weirdest mechanical I've seen for a while, with Nick losing the trailing caliper bolt from his rear brake on the run down on the tarmac. I've never seen one of those come off before. After a lot of head scratching and the realisation that none of us carried spare caliper bolts we managed to solve the problem with some sticky tape and a piece of string by removing one of Nick's stem bolts and using that instead. And it worked, much to Nick's relief.
By now many of us were strung out between Yew Trees and the Ranmore Road but once we'd regrouped we headed along Badger Run, then Collarbone and on to White Down. This might seem an odd way to get to Leith but Al wanted to avoid the Rookery and few were arguing. The trails remain dry and full of grip so we headed down White Down with a tremendous view across the valley toward Leith in front of us. This only briefly distracted me as my attention was mostly taken by the trail itself.
Once across the farmer's fields at the bottom we headed up the cheeky footpath to the church at Wotton and then up the road toward Wolverns Lane. There was a bit of confusion as Al contemplated taking us down a more contentious footpath (rumours Al was still rediscovering things for himself proved unfair) before we picked up Wolverns Lane and headed up the hill.
Wolverns is a lovely hill to climb but there's a few bushes which need a bit of topiary work at this late stage of the year. It didn't really slow us up and after regrouping at Simon's Copse it was downhill to the Whiteberry Road climb. And climb we did, up and up along the wide double track, then doglegging onto the Chugalug climb. People were heard to mutter.
Actually I quite enjoyed the relaxed pace and Al was true to his word about experiencing Leith Hill!
Eventually our work paid off with an extended series of rambles through the meandering trails to the North West of Leith Tower. I had no idea where I was and the Kona hardtail I was riding was getting a bit of a workout in places but apart of a handful of buttock tightening roots that were heading along rather than across our path it felt really quite a handy machine on this sort of slow speed technical noodling.
I did back out of one roll in though. A sixth sense told me not to, for no other reason that that it was huge, I hadn't seen it before and couldn't see the run out. So I noodled my way round the drop and rejoined the trail further along.
It proved surprisingly hard work noodling around these trails and I could feel a cake-shaped hole in my stomach forming. We eventually spat out onto the end part of the long climb to the Tower and headed cakewards. Depending on levels of energy or optimism we split briefly for some to track round to the Tower while the rest tackled the climb itself, which proved to be quite a nice little spin on my low geared Kona (24T at the front!). With plenty of sunshine around, no cooling breezes and tea and fruit cake, we spent a pleasant half hour or so taking it easy before starting the return journey.
This involved a bit of Chicken Wings, with Nick stopped again, this time for a puncture stop, then the joys of Deliverance (I debated but decided not to, while others did!), then Waggledance. I love Wagledance but as is so often the case it can be a bit of a stately procession. After that, Summer Lightning. Here it seems my Garmin recorded a tardy 1:05 for the first section versus Krazy Karl's time of 37 seconds, yet our times for the first two sections were within 7 seconds of each other… weird. That's GPS errors for you – or was it Kev holding me up (joking Kev!).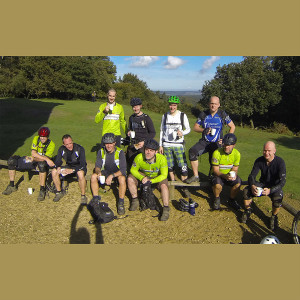 (Photo © Karl Attard)
We continued the flow back down Wolverns, thoroughly enjoyable until we met a grumpy walker which upset the mood until the final steppy section cheered us all up again. After a pause to allow two very large horses to exit Rookery (you don't want to bump into them!), we headed down to the houses and out onto the A25.
Our group, having shed Jez and then Nick headed back via High Med, which was a leisurely affair as the climbing of the day took it's toll. Once up on Ranmore we headed home via Dearly Beloved which accounted for a final delay of the day as Andrew unluckily ripped his tubeless tyre on a flint. The problem made itself known as we climbed up into the Polesdon estate and while Karl and Andrew fiddled the rest of us ambled on. By the time of a regroup on the Polesdon road a fair bit of time had passed and we reluctantly headed on to Bocketts, with Karl and Andrew yet to be sighted. Eventually Andrew limped into the car park with a hobbled bike which had needed multiple reinflations as the tyre refused to seal.
After much debate we nursed his bike back to Dave's where it was given a shot of adrenalin to get him home.
Final mileage – about 27 miles door to door with lots of climbing and plenty of fun.