Ride report: Sunday 7 April – Swinley Blue and Red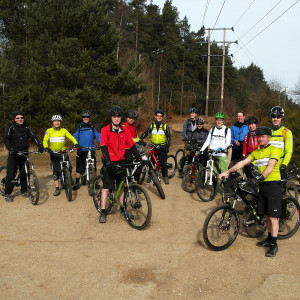 Well this feels unfamiliar! After a dispiriting couple of months during which I suffered first a virus, then an (ongoing) mountain of work, Olympic levels of tiredness and a growing loathing of the miserable weather I finally made it out of the burrow and onto a Moles ride.
To add to the novelty we headed to Swinley to try the new Blue and Red trails that opened at Easter.
I know what you're thinking. With just three rides under my belt since February 1 – a pub ride, a gentle road ride with DaveC and a slightly more arduous Friday afternoon with Dandy and DaveC, perhaps it was a bit ambitious to head off to Swinley? I thought so too but as the old saying goes you never forget how to ride a bike. Where your fitness goes is another matter…
Anyway, I had an incentive. We currently have a Salsa Horsethief 3 on loan for a bit of testing and Dave offered it to me for appraisal – quite handy really since my regular Five is currently out of action with a catalogue of ailments nearly as long as my excuses for not riding recently.
I'm new to 29ers but have enough experience of them to be interested and a modern 120mm travel 29er seemed just the ticket for Swinley. I'll pick up on this in a later post but suffice to say the Horsethief 3 grew on me as the day progressed.
But back at the beginning of the ride I was a bit more circumspect. One of the things about not riding regularly is you not only lose fitness, you lose the ability to judge what you should be wearing, made particularly difficult during our recent winter of discontent. I went for winter biblongs under my favourite Intrepid Apparel gear, but seeing others dressed for every eventuality had me doubting my wisdom.
Not as much as I doubted StevenD's choice of clothing however as he rocked up in a pair of 501 jeans straight out of the '80s. Since he had no note from his mum to explain away this heinous clothing choice I henceforth dub him Levi for the remainder of this post. I actually thought he'd been unlucky enough to leave his riding kit at home and was gamely riding ad hoc but no, this was an intentional airing of Nick Kamen's favourite legwear. At least Steven Levi kept his trousers on.
The rest of us – DaveC, Jem, Alan, Kev, Karl, AndyK, Martin, Elliott, Al, James, DaveW making up the bakers' dozen – were soon saddled up and ready to ride for around 8:30am, a time at which you could just about feel some warmth creeping out from the sun.
The authorities at Swinley have spent a lot of time and money over the winter building (or extending) purpose built trails which have been graded as Blue and Red. The outcome is around 12-14 miles of all-weather trails but the flipside is a restriction of where you can ride, perhaps an inevitability given how busy Swinley gets.
We set off on the Blue which seems to have been classified as such purely because it's shorter than the Red. The Red, while having a few sections of steeper trail didn't really seem too much different to behonest.
Within a few yards of setting off on the Blue we were riding the first of many sweeping berms and low doubles which were all completely rollable but could also be launched off at will. The only thing stopping me pushing too hard was not knowing the trail well enough but even so the Horsethief was soon in the air. I was starting to enjoy myself, especially on the Whole Nine Yards.
Our first real uphill granted us the opportunity to watch Levi grind to a halt with a broken chain. After checking he had it under control we pressed on to tackle Stickler and then catch our breath waiting for Levi to join us.
Stickler showed up my fitness rather cruelly. The first two thirds were much more enjoyable than last time I rode them on the Five, and in fact I was held up by (non-Mole) riders ahead of me for what felt like quite a while but eventually as the trail cleared I had to sit back and watch as Elliott cruised away from me while my two-month layoff made itself felt. As I always say to new riders, we've all spent time at the back… I was pretty hot and bothered by the end of that.
Pressing on we took in the usual Tank Traps which I felt I could have gone faster through but there was a lot of traffic. I'm not sure at which point we transitioned from the Blue to the Red but there was a fair bit of fireroad here and there. I'm really not familiar enough with the area to reel off all the names of the sections but Seagull was in there, the delights of Jobber Hill followed by Deerstalker and the Labyrinth. The more I rode the Horsethief the more I was pleasantly surprised by it's handling, even on twisty stuff like Labyrinth. In fact, by then I really wasn't thinking of the bike at all, just happy to be out, glad to have the sun on my back and making the most of the day.
Some time after Labyrinth the Red led us into the first of a couple of mad sections of fast rollers and doubles that I found myself hooning down in a fast-as-you dare sequence of turns. Dimly you become aware that you are travelling stupidly fast but before that realisation sets in it's over and the trail returns to it's usual rolling flow. It was really a lot of fun, helped no end by the current conditions which are verging on dusty at Swinley. There's another section nearer to the end of the loop which has a similar quality to it – where Elliott, following me, noted the Horsethief was getting me out of a lot of trouble. Which is a fair description, as my rustiness became more apparent as the ride wore on.
By the time we reached the final couple of miles – our flow interupted only by the unlucky Levi whose chain choked catastrophically again – I was starting to wilt a bit, but there's a final gift from the trail pixies with a section of huge sweeping berms that are very much reminiscent of the end of Barrie's on Holmbury Hill. Sorrell-esque in fact. A fantastic way to end the loop and pretty full on for a Blue I'd say, especially as by the time we finished (around mid-day) there were Dads rocking up with their kids. They all looked capable of riding it but those turns might draw an older rider into warp speeds that might overrun younger kids quite easily.
The last mile or so I was pretty beat, a reminder that my fitness has ebbed away and needs a few weeks of regular riding. I could hear the sugar demons whispering to me as we reached the cafe where a couple of Eccles cakes did wonders to revive me. Oh and thanks to Levi for the beer!
All in all, a great way to return to Mole activity.