Ride Report: Sunday 7 January – Sunny Side up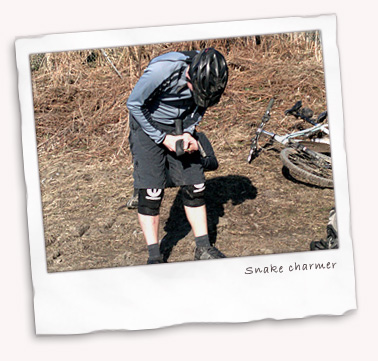 Did you know that the sky was blue and that there is a big bright thing that sits in it generating heat? You'd be forgiven for forgetting after the awful weather we've had of late but 7 Moles headed out to into the light for a change.
First disappointment of the day was a text from Matt saying he'd woken up with a stiffee and wouldn't be out. Now given his closing comments in the previous article I surprised Mrs Matt was standing for that? (Standing? Unlikely, and the text said he had a "stiff neck" – Ed)
I arrived to find Mark from Biketech with his mate Nick waiting for us. Jez followed and the Lee, Keith and JohnR arrived making the starting seven. Given the good weather and the fast drying trails Matt and I had already discussed a ride over to Leith Hill and I saw no reason to change that.
Starting off up the Admirals track I was amazed how much it had dried out in a week. The main puddles were still there but the rest was drying nicely. We found a decent pace and headed to Polesden Lacey followed by the descent under the two wooden bridges which was clear for a change as well as being dry, making it all feel very comfortable. Up Yew Tree Lane and we headed for Landrover via Badger Run. I quickly briefed the two visitors to what to expect and we headed off down.
Plenty of grip made it a real pleasure to head down and there was enough to descend at the speed you were comfortable at. We headed across the railway and disaster No.1 struck. I'm still a little hazy as to exactly what happened but the outcome was a rear mech hanging of Nick's Marin.
The dropout was swiftly replaced with a spare but after refitting the mech it became clear that it was bent well out of line. Game over for Nick and he decided that a walk back to the car was the best course of action despite Mark's offers to ride back and get his van.
We left Nick to amble back and we pushed on up to Westcott and then off to the Rookery climb. At the top of the climb we found a chap setting the course up for the Dorking Half Marathon (I think that was it, might have been the Leith Hill Half Marathon). Luckily it hadn't started yet so we headed for the Tower taking in the bomb holes at the top of Deliverance. Around here disaster No.2 happened.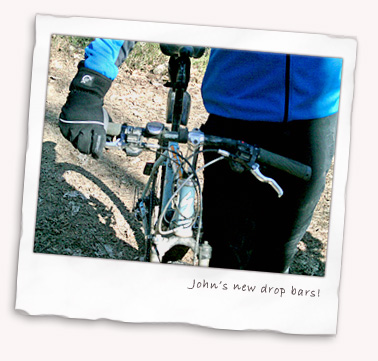 Again, not sure what happened other than JohnR had a slow speed refusal and landed the bike on the bars. This bent the bar at a very strange angle. Whilst not a show stopper it was generally felt that John should stick to the flat from now on!
We headed up to the Tower and took in some rays while munching on cake and drinking tea. I partook in a rather fine Orange and Chocolate cake followed by a piece of flapjack. I also chatted to Mr LordOnOne Snr but LordOnOne himself appeared and I introduced myself, never having actually met him before despite several cyber-nods in the past.
His Singular was looking particularly fine with its Carbon Niner forks. He also gave the the heads up that he was looking at buying a KHS Flagstaff 29er full susser. This got me thinking that I might need to further narrow my class for the timed ascent of Box Hill. Given my class leading performance in the Full Suss 29er category I'm concerned the will now be another full suss 29er on the patch. I thinking I might need to rethink this to Intense 29er class leader…
JohnR and Keith opted to head back the direct route and headed off. I forgot to mention that Keith was trying his ContourHD camcorder out on his bike after a successful trial in the motorsport arena. I look forward to seeing some footage.
So off we set taking Personal Hygiene en-route to Waggledance and then Summer Lightning. At the end of the first section of SL we came upon a groupt fo some 15 riders. Spying RobM it became clear that this was a DoMTB outing and Rich stepped forward to shake my hand before returning to adjust Lee's strap-on. Luckily the strap-on was a GoPro HD so there was a lot of HD action over at Leith today! Letting them head off first we following down the second part at speed to find DaveB snapping photos on the exit.
From there we basically followed our route back, dodging runners down Wolverns Lane and opting to climb back to Ranmore via White Down.
A cracking ride and we can only hope that the weather holds for a while.