Ride report: Sunday 8 March – Ranmore and Abinger Roughs loop

Today's ride was brought to you by the words 'complicated' and 'tiring'. In DaveW's case 'puncture', followed by some other choice words would no doubt apply.
The ride was complicated because we decided to hook up with a group of DoMTB riders who were starting out from Ashtead at 8:00 and tiring is the only word you can use after covering 23 miles in blustery conditions in just three hours without a tea shop in sight.
Starting from Bockett's we had Lee, Toby, John(Jon?) and myself expecting to meet up with the DoMTB group about 8:45 along the Admirals Track to Polesdon. Within minutes though I'd had a call from Colin to say they'd suffered a puncture at the King William in Mickleham and were running late.
With the wind keeping the temperature down I suggested we head up to the saw mill to meet them as they rode through Norbury but when we arrived there was still no sign of them. A quick phone call told us they were still wrestling with the puncture down in Norbury, so it wasn't until 9:00 we finally met up with Colin, DaveW, Davebus and Nick (Easynow).
But we got going, all of us riding as lightly as we could along the Admirals Track which claimed so many riders a few weeks back with hawthorn punctures. It didn't seem much better today but we made it through unscathed and headed on to the green lane up to Ranmore. I hate this route, the top is quite tricky to ride smoothly with all the ruts and bumps and the rest is just a hard slog up over loose fist-sized flints.
Obviously I haven't ridden it for a while though as the top part has been sanitised by filling in the chalky gully that used to run the length of the track to the first right hander. If anything, this is an improvement because you can carry a bit more speed through the turn using the bank, but it's still rough from there down. The long climb was certainly no better, I hooked on to Lee's slowly disappearing wheel and dug in for the duration. We managed to be the first two up but it wasn't our physical condition that brought us that result, just more clanking mechanical noises from DaveW and other riders getting thrown off their rythmn.
Up at Ranmore, DaveW pulled up for his second puncture stop (it was his struggle back in Norbury too). Part of the reason seemed to be his complicated (that word again) bolt through arrangement on the Marzocchi Bombers on his—rather fine looking—Prince Albert which slowed him up considerably.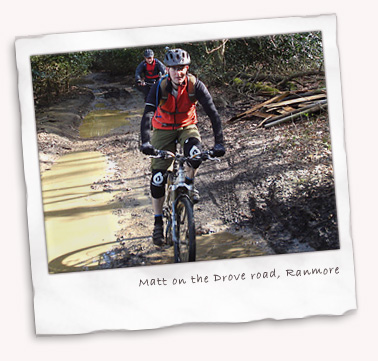 Eventually the hounds were off again heading toward the green lane toward Newlands Corner. Davebus had a route down off Ranmore in mind, the start of which I've ridden past many times without trying. Actually, we rode past it again this time but it was no great disaster and once on it we flew down toward Abinger and crossed the railway near New Barn Farm. It was a fast, dry descent which let you carry a lot of speed all the way down and great fun.
Just before turning onto the Roughs we said goodbye to Toby and John(Jon?) who were heading for a longer ride toward Holmbury and planning to meet a mate shortly. The rest of us continued on, blasting through the sandy Roughs with momentum on our side before crossing White Down Road and following the edge of the field along the valley back toward Westcott.
From there we headed for Holehill and the trackway back up to the Ranmore Road, interupted at times when DaveW stopped to put air into his by now thrice punctured tyre. No matter, the weather was warm, there was plenty of sun in the sky and more surprisingly we were on time.
Having meandered down through Denbies, we spat out onto the A24 to be greeted by a scene of carnage on the road. The south carriageway was closed and there were the remains of two motorbikes strewn across the road with plenty of police in attendance.
Not a pretty sight and made more worrying by seeing someone's leathers, obviously cut off the rider by ambulance crew, lying in the road. I don't know the outcome of the incident but it's sobering to think that something like that can change your life and that of those around you so quickly.
Putting that behind us we turned for home, eventually parting with DaveW, Nick and Davebus followed shortly after by Colin in Norbury Park. Lee and I set our sights on the long tarmac climb back to the saw mill to bring us full circle and by the time we'd managed that followed by an intense but brief 30 second 'sprint' back up to the Bocketts car park we were exhausted. You could say it was tiring!
But it was a fine ride (see Abinger Roughs ride pictures on Flickr) with plenty of miles under the wheels, dry conditions (unbelievably given the heavy rain of the afternoon) and good company from a variety of riders – thanks for the ride folks. We made it back bang on time which given Lee had an appointment he couldn't miss was ideal and will hopefully gain us a few more brownie points with our other halves.