Ride Report – Swinley – Sunday 17th August 2013
Team Mole wasn;t very enthusiastic about a ride this Sunday. No particular reason but the Grand Mole and myself sat on the fence waiting for a decision from some of the others before committing. Andrew and JR took charge and decided on Swinley.
A later than normal 9:00am start was appreciated by Julian who travels for an hour to reach us but Swinley was already busy and the parking warden was already dishing out tickets as we got ourselves together. JR, Andrew, Julian, Kev, Lloyd, Karl and I made up the magnificent seven riders for today's extravaganza.
We headed off and warmed up with a quick lap of the green to get our legs in some sort of readiness. I find the blue chucks you straight into some full on climby sections and it takes me a while to get the legs really going, usually somewhere round the outskirts of Crowthorne!
Today was no exception and the Stickler had me pleading for respite. I do think a few sofa's half way round might add a place to rest and somewhere to break the monotony of this section.
We proceeded on to the red section and made our way out towards Crowthorne. There we headed off from the red and onto Corkscrew for the first time in a few rides. Conditions were still dry even after last nights rain.
This was Julian's first time over to Corkscrew and only his second time at Swinley.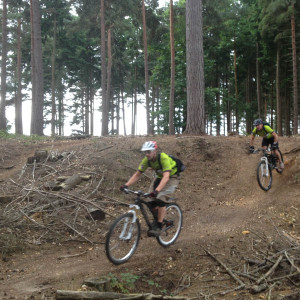 Karl was on his "new" 69er Marin full susser and seemed to be enjoying it.
Once back on the red I had my sites set on Deerstalker and my first run down was smooth and fast, leaving Kev trailing in my wake as he fluffed a few lines. We all exited and wnet round again, some choosing to do Babymaker and some Deerstalker again, followed by Labyrinth or an exit and fire road.
Here Karl took a liking to an Orange Cove ridden by a female rider. Having discussed whether it was a Handjob or a Stiffee, Karl asked and got the rider to admit to it being a Handjob, destickered. She seemed very capable or riding her Handjob as well!
Moving swiftly on we made tracks to what Andrew informed me was Blue 14 and the Gyro hammered down there as well before making tracks to refreshments.  All in all a swift ride of some 15 miles and smiles all round.