Ride report: Wednesday 19 August – Abinger and Ranmore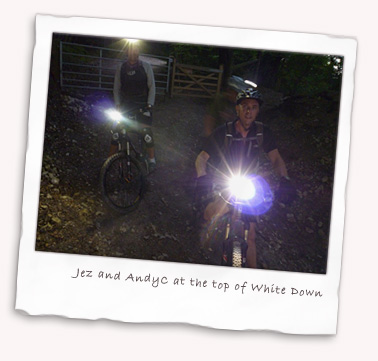 There really were no excuses for me not to join the night ride on what was probably the nicest day since the mini heatwave way back in June. In fact, I was well up for it, this being my comeback ride from injury and an attempt to get my mileage back on track. The waistline is starting to advertise my low mileage of late.
I shouldn't have expected too much. The slow-to-heal rib means about 80% breathing capacity before being stabbed and since a new arrival and work pressures, my monthly mileage tally (that was doing so well up to June) has been appalling – 65 in July and 10 in August !!
For a change, instead of arriving late and keeping the guys waiting, as is often the case, I managed to leave early and sneaked some extra miles in – bad move. The assembled crew of Matt, Jem, AndyC and Jez are all none to shabby in terms of fitness (quite the opposite in fact) so I ultimately paid the price later on for a) the pace, b) the sneaky extra miles and c) being an arse for suggesting the route.
We trod a fairly familiar trail to White Down via Polesden, Badger Run, Collar Bone, etc and avoided the temptation (and further injury) to have a pop at Abba Zabba etc. From Abinger Roughs we headed up a climb that I can only describe as making White Down seem like a walk in the park. It's a chalky affair that winds up one of those points on the map where the grid lines are VERY close together. Because it winds, its also long and painful, eventually spitting you out on Drovers Road on the NDW.
The guys cleared off in a big way and had time at the top to bake a cake before I arrived with hands tingling, legs like jelly and a very prominent pulse in my ear. Thank goodness we took the chance to start a major discussion on lights, D2D and the world at large.
Jez eventually snapped us out of it and we picked up speed again only to be greeted by a massive pile of rubble completely blocking the byway that looked like an open invite for the Lacondeguy brothers to have a play on.
It turned out to be material for laying the surface on the track. They're making good progress, though I'm not too sure I want Land Rovers and 'crossers to be given the opportunity to go even faster along what should be a bridleway.
From here on it was fairly standard stuff via Ranmore and a very, very loose, chalky Denbies descent back to the A24 and home, where I literally folded in a heap on the lawn for a few minutes from exhaustion and had the wobbles until I went to bed. My wife stopped me mid sentence as I tried to explain that I'm just not riding enough lately!
Great ride and thanks to the guys for the company and waiting for me. I need to get some training in.
Please can some slower riders come next week?