Ride report: Wednesday 6 January – Snow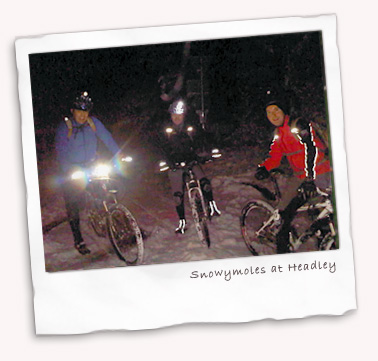 Best. Night ride. Ever!
Well, certainly it was different as we tackled the deep, freshly fallen snow that is currently blanketing this little corner of Surrey. Despite temperatures well below zero we also managed to stay pretty warm until the increasingly slippery conditions brought our work rate down later in the ride.
Early enthusiasm across the Mole clan dwindled to just four riders stupid enough to ride out from the garage as usual. As I cycled up the road, which offered surprisingly good grip for my Specialized Storm tyres despite looking like sheet ice, I found Tony and together we made our way to the petrol station where Jem was waiting.
The biggest difficulty from the conditions was the heaped snow and slush near the side of the road, on the compacted snow/ice it was fine. Unless you tried to walk on it of course. Even so I wasn't one to take chances tonight with both elbows and knees well padded.
Shortly after we were joined by Barrie on his singlespeed (as I was) and we were ready to depart. Jem suggested a circular route around the Norbury and Headley area and we were off.
Riding up Crabtree Lane we passed a group of people digging driveways and cars out of the snow. Not for the last time tonight we probably seemed slightly mad to be heading out but it wasn't that bad. Honest!
But it was a relief to get onto the hills and off the road. Wiggly Wood seemed the obvious choice and it soon became apparant that it was going to be hard going. At least the snow reflected our lights giving great visibility for us. Wiggly Wood seems to have become a bit of a stand-off point for mountain bikers and walkers recently, with lots of logs placed across the track to slow riders.
I guess it is a footpath (though I doubt it's any more 'official' than a deer track) but walkers seem to have decided to draw a line in the Surrey mud. We only tend to ride it at night anyway and can't be ar*ed with the hassle but those logs are a bit of a pain, even though most are ridable. Tonight it was largely academic anyway as the snow smoothed off all the major lumps and there was no-one else around anyway.
Past here and heading along our usual track to Polesdon the snow proved increasingly hard going, being probably about 8 or 9 inches of cover in lots of places. Very difficult to keep the bike pointing in the right direction and almost impossible to keep momentum going as any attempt to freewheel brought immediate slowing. The key to the conditions seemed to be to keep rolling and float over the snow as much as possible rather than slow down and sink in.
It sure was fun as we all slipped and slid our way along. Soon we reached the turn-off to the cottage at the end of Crabtree Lane and off we went again, quickly reduced to a walk and push in the deep snow. Unfortunately this also meant cleats getting clogged with snow — if you have flat pedals and appropriate shoes you'll probably find these best suited to the conditions than SPDs.
Eventually rolling again we headed down Crabtree to Westhumble, a scary descent on the snow covered tarmac that had us tensing and skidding all over the place. It's true though that spinning wheels tend to want to stay upright and we made it to the bottom with just Jem taking a tumble.
By now it was clear the slush and snow was starting to freeze hard. A deserted A24 greeted us as we passed the Burford Bridge and started on the road to Mickleham. Our intention was to climb up over the Gallops. Passing another group of people staring disconsolately at their marooned vehicles it was worth reflecting that our one-wheel-drive transport was serving us pretty well.
That was until we tried to tackle the Gallops climb which saw us managing 30 yards before Tony suggested we headed up to Headley along the 'little Switzerland' road instead. Soon we were back on the more predictable road, working our way steadily uphill.
Although largely grippy, I was still caught out twice and dumped on my backside when the bike suddenly slipped from under me. Thankful for the padding I had on I was nevertheless abruptly jarred by the falls. Standing up made me realise the road was lethally slippery but then, I wasn't trying to walk it was I?! I was soon back on the saddle and riding with Barrie while Tony and Jem stopped to help a BMW driver park his car by the roadside. For him at least the road was impassable.
For us, well, we kept going. Round the Nower Wood loop and up to the Tyrells Wood car park through very deep snow which proved very tiring, then we started our descent to Leatherhead via Alsation.
Near the normally claggy mud alongside the golf course Barrie was bounced clear off his bike by the frozen ruts while Tony managed to steer into the side of the trail ('…I was going fine until I hit the tree!') and bit further along. By the time we started Alsation proper it was clear that it wouldn't be a night for jumping the roadway.
I led the way and had the luxury of a clear view ahead. I pedalled all the way down as every time I stopped I immediately started to slow down. Relatively of course, it wasn't a fast descent but even so was quite a blast. There's even a snowman with a holly crown standing right next to the roadway. I don't think I imagined that…
As we came out onto the A24 again it was bizarre to see it still essentially empty bar the occasional vehicle. It does make crossing it much easier though. Heading down toward Thorncroft past Michael Caine's house the earlier slush and snow had by now frozen solid. I had a bit of a wobble before Tony passed me doing his best speedway turn on the final corner.
Here we parted from Barrie and then dropped Tony off at the Leisure Centre while Jem and I slogged the final couple of miles toward Bookham. Up past the Thorncroft Vines was hard going but we started to get into a steady rhythm before climbing the last hill up from Bockett's Farm.
All in all, 13 miles of snowy fun in difficult but not impossible conditions. It's not every day you get to ride this stuff and I heartily recommend it. Not that I'd want it to be like this all the time but it does remind of just how awesome Jill from Up In Alaska really is!