Ride report: Wednesday 7 February – Night riding in the snow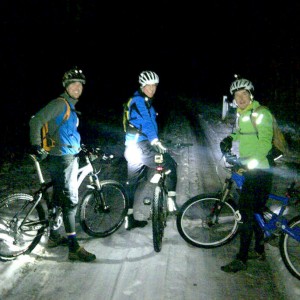 You wouldn't expect a little snow and freezing temperatures to stop our regular night rides would you? No, didn't think you would, which is why four of us managed to brave the snow and ice for a little bit of night time off-roading.
It's the time of year where the long nights and short days really start to bite; a time for staying in doors under duvets. If you are sufficiently motivated there's still plenty of fun to be had and the consistency really pays off by the time spring and then summer arrives. Which, believe it or not is not so far away now we have daylight at 5:00pm again…
So, Keith, John, MarkyMark and myself turned up at Hylands; it would have easily been more for sure but Tony was otherwise engaged and JonH found work got in the way. Last week Tony and I got out on Thursday for a blinding ride, taking advantage of the frozen ground which had turned the trails into fast rolling perfection. Somehow this week I was expecting more of the same despite the snowfall which had covered the region at the weekend which I had expected to have disappeared by now. How wrong I was!
We set off up Crabtree Lane and as soon as we hit the bridlepath it was clear there was still a lot of snow around – the surface was hard-packed ice and snow which was a bit disconcerting but I wasn't too bothered. Into Wiggly Wood, the surface felt fine as we wove between the trees. I found I was slowed quite a bit by an Avid Elixir rear brake which was pulling right back to the handlebars which meant I couldn't easily balance the bike on the twisty bits and didn't want to push too hard on the front for fear of an unscheduled dismount. My plan was to keep us rolling comfortably enough to prevent the chill getting to us without going hell for leather.
Just past the wood I showed the guys a cheeky footpath extension which brings you over toward the unmade Crabtree Lane. It's narrow and twisty, not helped by some very low branches and a set of roots which appears to match the wheelbase of my Five exactly but the payoff is a little used track that snakes enjoyably through the tight trees. At one point I startled an owl sitting at head height on a tree as I got within six feet of it before it reacted and flew off silently which was quite surreal.
Back onto Crabtree we headed for the cottage, the surface being deeply unreliable as most of the track was solid ice but the rutted mud was firm enough to give traction provided you were smooth with the torque being fed through the back wheel. My visions of another effortlessly brisk ride were evaporating as I saw more of the dubious conditions. It wasn't bad by any means but if you had any sense you made sure that you were riding at 7-8 tenths and no more.
At the cottage we turned right toward Polesdon, up the short climb and then into the woods on more singletrack before settling into a nice steady flow. I continued to be hampered by my Avid Elixir, as I was all night, so it's time to make use of the Epic Bleed Kit before this weekend's ride I think.
As we neared the back of the Polesdon estate the snow covering the trail thickened making it hard going. After a soggy start the snow now has a firm crust and then feels powdery underneath making the ride a question of ploughing through rather than skimming over. In no time at all we were starting on the nasty Tanners Climb.
Mark and myself were a little ahead of the other two as we steadily climbed and within seconds the slightly reduced pace had my glasses steaming up badly. I hate that. Really, really hate it. With no idea how far back people were I put my head down and tried to keep moving forward, nearly blind and with just a narrow tyre track from a few cars to negotiate. Either side of that was more of that dragging snow which I was keen to avoid.
So it was hard work, made worse from a few sections with minimal traction resulting in the back of the bike slipping which had me pinging from side of side trying to keep a straight line. Behind me I could hear Mark was keeping me honest. By the top I had been overtaken by Mark and was knackered, with John and Keith closing in. In daylight we would have had a totally different experience but darkness, snowy ruts and fogged glasses conspired to create a miserable slog.
Looking at my Garmin stats later I found I'd had a HR above 170 for nearly eight minutes with four minutes at an amazing 179 giving a weird flat line to the peak of my HR curve so no wonder I was knackered. I'm in no rush to do that again despite seeing my HR drop to 116 within two minutes of stopping at the top where we briefly debated where to go next. It was clear the much thicker snow was both slow going and potentially dangerous which meant my original plan toward White Down and a descent to the valley via Abba Zabba didn't make a lot of sense. When conditions change, change your plans and all that…
Instead, we decided to go for a short Effingham run which still meant negotiating Badger Run and Collarbone. Collarbone was great, so nice to ride through there with no cloying mud to hold you back but by the time we had reached Trouble in Paradise the thicker snow had returned in style. As we headed for the White Down road we found ourselves blazing a trail through expanses of virgin snow and as we entered the car park we found sheet ice and compacted snow everywhere. Lots of low gear spinning followed.
The trails up near the reservoir were deeply covered but we pressed on, keeping the spin rate high and carefully picking our lines. Despite this we were often bogged down at which point I finally conceded that tonight's ride was not going not be anything like the week before and settled for getting through without dabbing! At one point my HR hit 191 but only very briefly. We thrashed our way on and I have to say I was really enjoying myself.
Finally onto the Drover's Road we turned right and made good steady progress on an icy but reliable surface before reaching the Ranmore Road. Shortly before we stopped to have our picture taken at which point I realised how well we were doing as the surface was very slippery. It's amazing how well the tyres were coping as the bikes felt very stable so long as you keep within your limits. I wouldn't have wanted to put too much energy into the steering and brakes that's for sure.
Our descent off Ranmore was via the long run to the A246 which brings you out opposite Dirtham Lane. Normally a claggy drain on the legs in winter, giving way to a bumpy but fast sumer run, tonight it was deeply frozen ruts and many, many trees down which impeded our progress, necessitating a stop and carry over the windfall each time. Goodness knows when all those trees came down as I can't remember it being particularly windy since the start of January.
At the A246 John decided enough was enough and turned for home along the road while Mark, Keith and I headed back to Bookham via Effingham and the notoriously bumpy field. In contrast to the top of Ranmore the atmosphere felt much warmer (a whole degree! – just 0° centigrade!) and the ground in places showed the hints of a daytime thaw. Even so it remained basically hard-frozen so I felt pleased to have the benefit of full suspension to take the edge off the worst of the ruts.
By the time we reached Bookham my GPS was showing 17 miles in a little over two hours of actual riding. We'd managed to have a good laugh and stay warm with no incidents which makes it a success in my book!