Sunday 2nd September. There's starting late, very late, Paul time and half way round the ride!
Sunday morning was definitely an odd start. Not particularly cold, but overcast, drizzly, a little breezy and generally not an inviting morning to get out on a Moles MTB ride. Maybe that's why everyone seemed to be competing to be the last to arrive.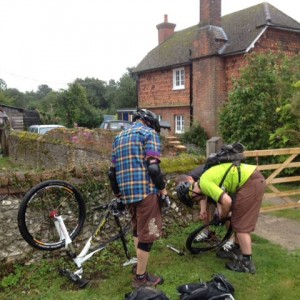 I wasn't exactly prompt, but after a quick (quicker than I might have wanted to start the morning) ride up to Bocketts farm I was glad to see that I wasn't the last to arrive as I timed my appearance to coincide with Lee (twice in a week what's happening!). Already there were Lloyd, JohH, Dave (on his new 17inch Orange 5), Elliot (LoO), Kevin, BigAl, D'Andy.
As were about to set off when Jez arrived hot footing it from Espom. A plan was already hatched – over to Leigh Hill with the promise of a slightly different route! We started off along the Admirals trackway, with calls at the back marking PaulM arriving, on his usual version of timekeeping. It was good to see his Niner not covered in 25lbs of Mayhem mud.
By now the drizzle had set in and we were riding in the clouds as we made our usual route along to Polesden and up Yew trees to Ranmore. There was still one more left to join us as we headed up, Barrie on his illegally light (well it should be!), self harming Scott.
The usual route continued with Badger run and Collarbone, over White Down but instead of the White Down trails we cut over further west to the top of the C1 (copyright MarkyMark) climb that heads down to Abinger Roughs. A nasty climb with some tight bends and smooth chalk, it was tricky going down too, with careful application of the brakes being essential. I followed Al down to half way and he stopped to show us the correct left hand turn and then I lead the rest of the way with JohH hot on my heels.
We rolled to a stop and waited for the others. And waited, and waited, and waited. Finally we headed back to see what was holding everyone up. Lo and behold, there was "Mr no patience for punctures" Barrie, with, you've guessed it, a puncture. Only a complete novice – no names – would have let the sealant dry out in their tyres :). Eventually, Barrie got an inner tube in the tyre.
Next we headed over Abinger roughs to Abinger Hammer and the bridleway (plenty of peoples least favourite climb apparently?) to Sutton Abinger. Then a quick spin to a technical tight little rooty climb that leads up to part of Telegraph Row ("Are we going up Telegraph?"), then up to Holmbury hill for the "view". Here Lloyd and Jez peeled off .
Yogurt pots was slippy in places but plenty of fun and then we headed down another track that we usually climb. Another nasty, rocky tight climb that was lots of fun to descend, even with gorse lacerations, that took us to Holmbury Hill Road. Made more pleasureable by riding behind Barrie watching him doing a bucking bronco impression on his Scott. Next yet another descent that was usually a climb, a fabulous swoopy tight trail (why hadn't we ridden it this way?) to Horsham Road.
A quick left onto the road and a right turn up Upfolds Farm and it was a trip down memory lane for me as we took the Bridleway up to Leigh Hill. A trail that I probably hadn't ridden (up) for maybe 10 years. This used to be a horribly muddy lane but the surface was much improved. The mind does funny tricks and I remembered the long drag but forgot the steep section 3/4 of the way up. I'll not forget it in a hurry now.
At this point BigAl was regretting his choice of geared bike, longing for his singlespeed. Maybe he should have swapped with Lee who didn't seem too impressed with singlespeeding at this moment. Barrie and Elliot seemed to be having no problems with the hill but some of the other Moles were looking a bit worse for wear and the call of the Tower Tea Shop was great. Barrie headed off here.
After plenty of cake (2 each for Kevin and I to make up for too little breakfast – well that's my excuse) to Chicken Wings and Deliverance. Which I rode down no problem, well the mini-deliverance on the side. Still it was good to ride down to the bottom of Deliverance for once.
Next it was one of my favourites in Surrey. Waggledance, Summer Lightening, Wolverns Lane and the Rookery. Even if a fellow cyclist tried to slow PaulM down by literally throwing themselves in front of him on Wolverns.
The thought of White Down and McPhersons was met by mutterings of "mutiny" and less printable comments, so we spun up High Med (via the short cut for some of us), to Ranmore (where late starters Jez and Paul peeled off) and then down Dearly Beloved. Where D'Andy spectacularly misjudged the depth of a puddle. Good job he was wearing bright plaid or we might never have found him. I've never thought of his clothing before as a safety feature.
Finally it was a short climb through Polesden to Admirals Trackway and back to Bocketts.
Overall quite a tiring morning for 27miles, with some odd weather, but livened up by riding some trails in the opposite to normal direction and even more so by riding some old forgotten favourites.