Weekend report: South Wales 22-24 July Day 1 – Cwmdown at Cwmcarn

There are times I'm reminded of just how niche the sport of mountain biking is. Certainly, spending the weekend with a group of serial flatulants, getting stinky, muddy and scared half to death is not an activity that would appeal to most people. For my own part, I came away from this trip with mixed emotions.
Thursday started early for us, forced to get up pretty much half an hour before we'd gone to bed to get on the road. We had an appointment with fate, or at least, a group booking on the excellent CwmDown service at Cwmcarn and there were a number of us who were wondering if that was such a good idea.
You see, the Surrey Hills is not a downhill area. It's cross country, a bit of technical stuff (enough for a workout) and plenty of mud, chalk and clay. It's not what I would call a mountainous area so those of us who haven't yet tried mountain biking to the full meaning of that description were in for a bit of a shock. The CwmCarn downhill course offers every opportunity for serious injury.
With the mentality of 'I'll try anything once' I found myself agreeing to the idea of riding some downhill as part of the weekend's 'entertainment'. My fellow loons were DaveC, MarkJ, Colin, Jem, DaveW and D'Andy and there was much trepidation as we were carted up the hill using CwmDown's loud and raucous uplift service shortly after 10:30 for the first run of the day.
With saddles dropped suitably low we set off after the rest of our uplift passengers had disappeared from sight, saving us the embarrassment of them seeing how inept we were. It has to be said that some were markedly less inept than others, in fact DaveW and D'Andy actually knew what they were doing but the rest of just relied on technique, generous amounts of suspension travel and luck to see us through. Well, it's worked so far.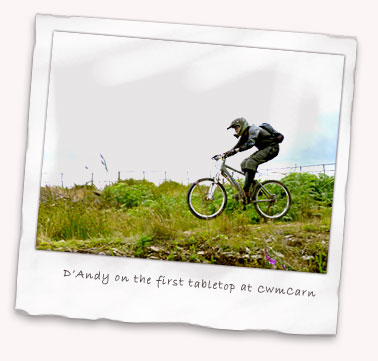 And it was great fun! Scary in a big way and at times rather technical with some tight switchbacks in the top third, lots of big kickers and tabletops (off which I managed to get a surprising amount of air at times) and some very steep sections but generally bermy and flowing.
At one point there's a big road crossing which I never managed without walking (DaveW flew, while Colin, Jem and D'Andy hopped down the slabs) but aside from that the whole run is completely rideable for someone with half-decent technique. The lower third is very fast, with huge corners, a bridge jump and a lot of tabletops.
Inevitably there were crashes but fortunately no injuries. DaveW stacked heavily and hurt his shoulder although not enough to spoil his weekend, Mark had a stumble and I managed two, one a silly stumble that resulted from the gradient being too steep to stand on, one a lot heavier.
In fact, I was lucky not to injure myself badly as I entered a kicker of a tabletop far too quickly, nosed onto my front wheel for a distance and threw my weight back as far as possible to compensate, ending sitting on the rear wheel. The resulting chaffing and grinding was bad enough but the impact of the rear wheel landing was something else when my weight headed down as the wheel bounced up! Shortly after that I was broadsided onto the ground and thanked God I had knee and elbow protection and a Camelbak to save myself from more than just a few wide grazes and bruises!
By the end of the day we'd covered 11 miles (including a short section of the end of the XC trail), most of it out of the saddle. At no point were we able to stop concentrating without risking a big crash so mentally it was a very intense experience and I was knackered! We might have been tempted to a final run but were saved from ourselves by a torrential downpour that put the idea out of the question!
Overall I think we all improved through the day before mental exhaustion kicked in. In a way I was relieved to have got it over with but on the flipside it showed just what the bike and I were capable of and meant that the rest of the weekend held no fears!
Look out for part 2 to find out how we got on…