Weekend report: South Wales 22-24 July Day 2 – Doethie Valley and Cwm Rhaeadr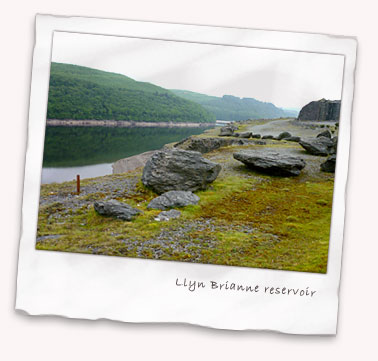 Having survived our first day in Wales at the Cwmcarn DH course, our second day saw us travelling north and west to ride some real trails for a change. The Doethie Valley and Llyn Brianne reservoir provides plenty of riding which hasn't seen the hand of man for a long time.
In fact, it hasn't seen much of anything for a long time!
Before all that though, we had to get to our accommodation in Llandeilo which was a great find by D'Andy. It's quite a trek from Cwmcarn to Llandeilo, so we stopped on the motorway for food for our evening 'meal'. While the others tucked into a Burger King, I made use of the Waitrose and Starbucks concessions to fix myself up with a pasta salad, yoghurt and double shot cappuccino. D'Andy went for a Tall, Double Shot, Caramel Machiato, proving that while you can take a man out of Surrey…
Our base for the next two days was the stunning Tregib B&B in Llandeilo, a place I would wholeheartedly recommend for anyone in the area, whether it's mountain bike related or not. It's a quiet converted barn and outbuildings just a short walk from the town with a standard of decor that I'd be chuffed to achieve at my own place; all well looked after and clean. At £50 for a twin room per night it was an absolute bargain and breakfast was substantial. Highly recommended.
The next morning saw us climbing back into the cars for a drive northwards toward the Doethie Valley. It takes you through some lovely scenery across what must be some of the least populated parts of the country before you arrive at the spectacular Llyn Brianne reservoir.
After a spot of faffage we were ready to set off, joined for today by Tony who was staying with his in-laws in Abergavenny. He is such a great son-in-law! So the eight of us set off round the reservoir along some non-technical fireroads, climbing gently and soon working up a sweat in the humid atmosphere.
After a few miles of that, sighting the odd Kite on our way, pretty soon we were discarding the height we'd gained down a fast stony descent which brought us out at Capel Soar y Mynydd, the most remote chapel in Wales. Well, there was no-one there when we passed!
It marked the start of a long and technical climb of heroic proportions which had us all gasping and eventually, pushing, as the gradient, loose stone and unrelenting length of the climb made itself felt. We amused ourselves by betting on the outcome of the one of the sections which saw me end up a few quid better off as I managed to clean a good chunk of the most difficult part of the climb.
After that the climb continued at a steep but more rideable gradient for a mile or two before we could start to take the rewards for our efforts.
Starting off with very fast stony fireroad we lost a lot of height rapidly before finally turning off onto the Doethie Valley singletrack which is described as some of the finest in the country.
It's certainly long, mile after mile of a contouring ribbon of track through predominantly braken clad moorland that caused us all a good few problems with staying on course. It's steadily downhill following the Doethie, at time's high and sheer above the river, at others coming down quite close to the water and all the while surrounded by miles of beautiful unspoilt hills and moor.
What it soon let us know in no uncertain terms was that this was a trail not to be taken for granted. Boggy in places, it could throw you off quicker than you can think and some parts were simply unrideable as DaveC and Tony almost found out, to their cost and our amusement.
There were many small stream crossings, some of which required a hike-a-bike and careful footwork not to snap ankles with glassy-soled MTB shoes, some of which could be ridden with skill and some of which just dumped you on your arse, as a few of us discovered, myself included.
Eventually though we arrived back in a semblance of civilisation, at a farm which marked the start of the long, long climb back up to the reservoir. By this stage we still hadn't seen anyone at all on our ride and this continued until we were back at the car park.
But in between was that climb. It was a typical slow burner with several false summits which started to break us as the climb wore on. I'd started first and kept it in the middle ring until the final bend where it was time to deploy the granny ring and dig in.
I knew Tony was close by and I knew he was serious as he'd was trying a stealth approach to catching me, just occassionally I could hear his wheels dislodge stones behind. But I hung on until I was forced to stop near the summit, to finally put my saddle up two inches to where I'd wanted it in the first place! But we'd made the climb and I'd kept Tony 20 yards back so I was happy.
Behind us, carnage reined, D'Andy resorted to his night club tactics (going for the granny [ring] early), while Colin had got off and walked a good chunk of it before throwing down his bike in disgust. Mark surprisingly showed signs of enjoying this climbing lark as he made it up without stopping but DaveC was suffering worst of all with the effects of a sugar bonk. For a time things looked a bit dodgy but fortunately we were close to home.
A few easy miles followed which brought us back to the car park where we took advantage of a very hospitable family offering us plenty of cake from their picnic. At times like this it's a joy to find some people can be so generous.
After recharging in the excellent Ty Te Twm in Rhandirmwyn which provided some really great and cheap hot food we set off for our mid afternoon visit to Cwm Rhaeadr near Cilycwm. Cwm Rhaeadr means valley of the waterfall after the spectacular 22 metre Cwm Rhaeadr waterfall you see as you climb the fireroad.
In all Cwm Rhaeadr is just 7kms long and a good two fifths of that is on fireroad which allows you to winch yourself slowly to the top. The final few hundred metres reduces down to some quite technical singletrack which is narrow and doubles back on itself to get you ready for the descent.
We had ample time to take in the breathtaking views from here while we waited (and waited) for Tony to sort out a puncture but soon we were underway again.
What a mental descent! Within a few short yards you've been treated to a multitude of small humps and bumps to hop off before being confronted by a massive tabletop that leads into tight but flowing corners, off big-ish drops and many, many more small jumps. You have to choose when to fly and when to soak up the punishment if you want to make the bermy turns.
Stringing together long sections of left-right-left turns you're then lead into a short uphill section which kills your rhythm but is a final necessary evil that spits you onto an astonishing section of giant berms and roll-able drops which you whoosh down at speed, eyes wide open.
Finally there's respite as you spit out into a wide clearing and you think it's all over. But no. It is, almost, but there's still a half mile or so of yet more technical singletrack that eventually rolls you back out into the car park, ready for another lap if you have the energy.
For us, it was getting late and with Cwmcarn and the Doethie Valley already behind us it was time to call it a day. I reckon I had another climb in me quite easily but I don't think I had another descent like that in me at that point.
So we headed back to the Tregib B&B where I would have been happy with a bottle of wine and good book to unwind with. Instead, after a shower it was into Llandeilo for a few pints, fish and chips and preparation for the highlight of the weekend the next day, Brechfa.
But that, as they say, is another story…