An Electric Mountain Bike?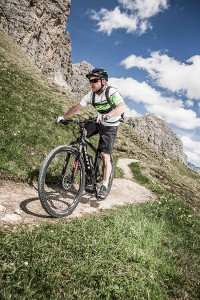 Those of you who frequent our forum might be aware that Yvette has managed to get a number of us this weekend (November 17th) to meet up and try out one of the latest trends in mountain biking. Electric bikes.
Yep, that's right, e-bikes.
Now this is the sort of thing that's sure to polarise opinion so we asked our demo organisers, e-bike specialists in Coulsdon, Cycling Made Easy, to give their view on the question of whether using an electric bike to go mountain biking is 'cheating'? Here's their take on the debate…
"Imagine the following scenario: You have been invited to a weekend MTB cross-country event. You love cross-country cycling and you haven't seen your cycling buddies for a while. However, the working week has not been kind and just contemplating a day of pedalling exhausts you.

Do you sit it out, wait for the photographs to go up on Facebook and then regret not going?

The above scene is so common when it comes to cycling. It is a big reason why bikes get left in garages and sheds, unused and rusting away but with an electric bike, you know you won't get into unmanageable situations because the motor takes some of the strain away. For many cyclists who don't see themselves as the next Tour de France champion, it's far more important to enjoy cycling as often as possible rather than limiting yourself to days when you feel fully fresh – which, if we admit it, is hardly ever!

Electric mountain bikes are very useful for beginners and improvers. If you're just getting into mtb's and haven't quite developed your 'mountain thighs' the electric bike gives you the extra oomph to tackle rides you might otherwise shy away from. Also, since you don't expend all your energy on each ride, you can cycle for longer and get more practice in.

The electric mountain bike fans at Cycling Made Easy know they are benefitting from the versatility that an electric bike offers. If you've ever been at the top of a hill and thought, 'I'd love to explore that valley but I'd have to come back up the hill. I'll leave it', an electric bike giving you that extra boost back up the hill helps you explore landscapes you might have missed.

Mountain biking is for everyone, not just those up for competing. Electric mountain bikes can help more people take part more often. Is that cheating?"
Cycling Made Easy is an electric bike specialist based in Coulsdon, Surrey.
Read more about electric bikes on their website: www.cyclingmadeeasy.co.uk