An evening with David Walsh and Shane Sutton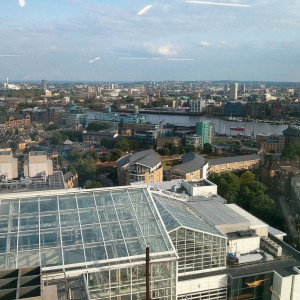 With the Tour de France about to kick off for the 100th time, I've decided that this year I shall make a reasonable attempt to follow the action from the comfort of my armchair. I'm not really an expert on this sort of thing, since it involves tarmac and competition and not mud and laughs, but I figure if you don't trouble to understand something you can hardly complain that, as it happens, you don't understand something!
All this is preamble en-route to explaining that on Tuesday night myself and Barrie joined Dandy and La Dandina on a visit to ye olde London town for a Q&A evening with David Walsh, UK sports journalist of the year and chief sportswriter at The Times. David's latest book is called Seven Deadly Sins, about Lance Armstrong's ultimate cheat's failure; that of getting caught. David was also spent much of last year with exclusive access to Team Sky and Bradley Wiggins so he's quite an interesting guy.
Also joining David on the platform was Shane Sutton, the head coach at British Cycling and one of the men responsible for getting the best out of Bradley Wiggins.
The evening was hosted at News International's rather impressive London offices in Wapping and from the 13th floor, the view, as you can see, was quite marvellous in the glow of a warm summer's evening. With plenty of free beer on hand, we spent a very enjoyable couple of hours listening to David and Shane's thoughts on the upcoming Tour, Chris Froome's prospects of winning, Bradley Wiggin's health (!), and doping. Lots of talk about doping, especially the 'bad old days' of the Lance era but going backward and forward from there.
Logically, with so many classic Tour stages 'probably' won by riders on drugs one should discount any respect for those riders and their achievements, but neither of our speakers was really able to deny the greatness of some of the legends of the sport. As David disingenously said, originally drugs helped riders reach their potential whereas now, drugs help riders go far beyond. I'm not sure I see much difference, and it's weird to hear something like that from someone who consistently called Lance Armstrong out on drugs, and got heavily criticised for doing so, but I guess it shows that watching the Tour leaves a lasting – and perhaps overly romantic – impression on everybody that's hard to shake.
After that the floor was open for people to ask them questions and with a knowledgeable crowd of cycling fans there was some interesting discussion. Barrie was itching to ask about the 'coincidence' of Yates leaving Team Sky at the end of last year when David Brailsford was asking for signed statements of cleanliness but had to wait until after the show before he could nab David. What a wind up merchant!
Incidentally, that's the only event I've ever been to where there was a queue for the gents afterward! Must be all that beer.
Talking of beer, we adjorned to the Dickens Inn on the St. Katharine's Dock shortly after and I topped things off with a large (and hot) Cornish Pasty on the way home.
Thanks to Dandy for sorting out tickets to this event, I really enjoyed the evening and I think I'm ready to settle down for three weeks with the remote control now…