Like many road cyclists I know, down to the half cm, my bike fitting measurements. Hence it came to me as a shock when I had to benchmark my MTB fitting against my road bike measurements this week.
Recently a few of us Muddymoles have been lead away to the perverse pleasures of road biking. Including some long training rides and culminating with four of us Moles riding the hilly Spring Onion sportive in respectable times of 3:30-3:40 for 67miles.
As a long time road cyclist and road racer (although not as long as MTBing) I get on very well with the road bike. I hop onto my road bikes, I feel confortable and feel like I have pedalling power. All is good.
So on Wednesday night, after a month or so off the MTB, it was a shock to get back on the dirt. It felt horrible! I could seem to get any power down and my back/hips hurt like hell after just 16miles.
Time for a re-think. Obviously something was wrong with my MTB position, and armed with my road bike position of years, I measured up my MTB position.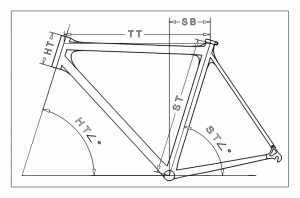 Obviously some parts of road bike measurement don't apply. However as always the first thing to check was the saddle height, from the centre of the BB to the top of the saddle (76.5cm – burnt into my heart), with sag for the suspension drop taken into account. Next was plus reach to the bars. All seemed OK. Saddle level was slightly nose up, so I changed that to slightly nose down (as suspension sags the saddle moves back and the nose comes up slightly).
Then came the measurement of the offset vertical drop from the nose of the saddle to the BB. 7-8cm on my road bike. 12.5cm on my Trek Fuel! 4-5cm might not seem like alot but I can assure you that it is, plus this is made worse by me riding 172.5mm cranks on my road bike and 175cm cranks on my MTB.
So I moved my saddle forward 4cm and moved the cleats back in my shoes a 1cm.
Earlier this afternoon I took the MTB out for a spin. It was transformed from Wednesday. My legs were spinning. I felt like I had some power and my hips/back didn't ache. Even in the mud (it actually rained today), without killing myself, I got my best Strava times on the climbs I rode.
Changing from a road bike to MTB always feels a little odd. However I'd certainly been making things hard for myself, so if you do ride road and MTB, check you position carefully!