Missing out on important things that is, like getting out for an off road ride in top weather.
I've just been over on the DoMTB forum looking at their Sunday ride. Weather today was spot on, it hasn't rained for two days at least and Dave at least appeared to be enjoying himself, even if Colin was unsure! Or was Dave just grimacing?

Photo© DoMTB. Reproduced with permission
In fact, it appears as though Colin was struggling with a bit of arse and elbow trouble today…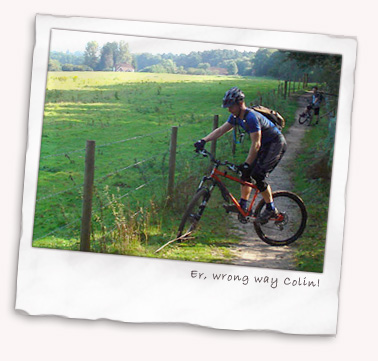 Photo© DoMTB. Reproduced with permission
I'm jealous, today felt like autumn had landed and with it my hopes (high, high hopes) of an Indian summer. I figure at least one kind of summer this year would be good.
In other news, I seem to have discovered a particularly good physio who, despite being none too gentle, assures me I now have full movement back in my shoulder and the prospect of a 100% recovery from my inevitable collarbone injury link. Did I mention that before? At least I can expect to be back on the bike in the next couple of weeks.
On top of that, I've finally made a decision on my lights, knowing that riding off road in the dark is the perfect recipe to put my wife's mind at rest. So, after listening to the advice of people I trust and my wife doesn't (you met them on the internet FFS?!!) I've decided to upgrade to the Hope Vision 4 and have stuck my Hope Vision HID on eBay for sale to the highest bidder.
It's a great light and if I had a decent helmet light would still be on my party list as the light spread is nice and even. But when I looked at the sums it will work out cheaper for me to buy the Vision 4 than it will to buy a decent helmet light, so the decision has been made… And of course, expect to hear in a few weeks time that I've also bought an Exposure Joystick MaXx as well!
If anyone wants to to contact me about the light without troubling my eBay conscience, feel free.
Finally, Mark and I tramped the Bookham to Dorking road route we've been trying recently on Wednesday night, riding uncannily quietly due to me being on my slick shod On-one and he being on his road bike! What!! a road bike? Well, it's a knackered old not-too-sure-what-it-is purple steel framed hack bike with semi perished tyres and a set of neon ally track bars on the front. Retro it is, without even having the grace to be ironic, but at least we were out.
Quite enjoyed it too. [sigh] Bikes. Don't you just love them?