La Calera, Campagnolo and Cartegena – Colombia, part one
Roadie warning! I put some of this in the darkside (road) section of the forum but it's a long time since I wrote an article for Matt and Dave's efforts on the web-site and have long wanted to do so.
Now that I am back from my travels I can add more to the story, along with some pictures.
Colombia
My summer holiday was in truth a dream come true this year in many ways. A 3 week, first visit to Colombia and although I might be expected to have headed off to the coffee region, the choice between this and the Caribbean was no contest. Before and after this I hoped to borrow a bike from Claudia's Father or his friends and get in a few kilometres. My expectations was blown away by what followed.
There's a cliché about Colombia that the only danger you have is in falling in love with it and I can see why. They tell me that if you want to find the stereotype of guns and drugs yes you can find it but the country seems to have changed a lot in the past years according to Colombians here and in the UK. I have no reason to disbelieve them.
If you will forgive me I will get the coffee experience out of the way. Coffee is no more understood in Colombia than anywhere else. Incredible as it seems, a local joke goes along the following lines. A couple get into a taxi and tell the driver they have come to taste the famous Colombian coffee but have no idea where to go, can he help? He panics and thinks on his feet replying that sorry he can't help as he's not from round here either. Sadly yes the coffee is that bad because it goes from production straight to export apparently and there is widespread ignorance about the way that some of us are able to enjoy our coffee. I still look forward to visiting the coffee region of course on our next trip…
Campagnolo
Firstly, those who read the posts I made from Colombia will know that "The bike by the way was a Fausto Coppi KSC in Alu with carbon forks and seat stays, 9-speed Campag Record throughout and Rolf Vector Pro wheels". What I did not reveal was that I was given this bike as a gift before I had turned a pedal.
I was speechless, I remember my brother having Campag Delta brakes when we were kids, I know that Tony and others have Campag equipped bikes too, I always lusted after one and it was a tough decision choosing SRAM on my Viner instead of Campag back in 2009 (I did so to stay compatible with my other Shimano equipped bike). The closest I got to owning any Campag equipment was having a set of Chorus hubs on a pair of Mavic Open Pro rims back in the early 90s. So for me to suddenly have a complete 9-speed Campag Record bike was a bigger deal than one might first imagine.
The roadmoles have not seen it yet but it's back in the UK thanks to Iberia Airlines, Bogota packing staff and Juan's generosity. I am grateful our baggage allowance was two 23kg cases each so with 6 allowed in total and despite the pile of suitcases, the excess baggage charge for the bikes (second one was for Claudia's brother-in-law) was low!
I'm hoping I can call on Tony and others to educate me a bit on tips I need to know about this classic Campag kit as I suspect they rode on it for years.
Since getting back to the UK I have had the brake cables reversed (probably everywhere except in the UK the left lever controls the front brake), the bars changed for well-padded flat-tops typically to my liking and a new cassette and chain are coming.
Claudia and I each rode both bikes shown below up the famous Col du Box (Hill).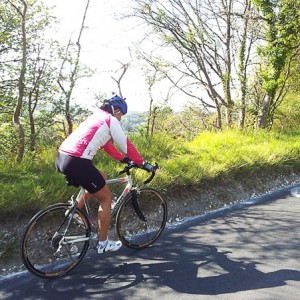 La Calera
After the long flights to Bogota via Madrid we spent 5 days living at the family home in Bogota at 2500 meters altitude and discovered altitude sickness the hard way. This view is taken from the home at 2500m so you are looking at the sort of 3300M altitude you can ride to the foot of and then climb.
After a couple of days the altitude sickness gets worse, like someone is sitting on your lungs and with a light headache but how can you come to Colombia and not ride?
Unintentionally we left it until day 5 then feeling as described I was spinning at 5am for maybe 5km to the foot of La Calera.
In Bogota you have to ride early or you face the congestion and awful pollution like this and to get to the mountains on the East side of the city you can't avoid riding through it.
This being a Sunday certain roads are blocked off from traffic which is great for cyclists but it would have held us up getting home in good time and we had a plane to catch that afternoon for the Caribbean. So, with Claudia on the camera and her father Juan driving, off we set. I overdid it on the warm-up and combined with the altitude I was cooked as I reached the bottom of La Calera, I could not get oxygen to the legs, and the rear wheel rubbing against the frame unnoticed had not helped!
Nevertheless and with a few stationery deep breaths up I went with nothing more than the determination any roadie would recognise. Juan reprimanded me for riding too hard on that warm up by the way and I wanted to ask him to join the road rides on a Tuesday night when the roadmoles take no prisoners from the start!
I was determined to give an account of myself knowing that Juan had won many cycling medals, was a serious amateur and on one occasion road 2000km with some mates in 17 days over proper Colombian ups and downs. No pressure then!
La Calera is a baby Colombian climb of 'only' 400m altitude gain over about 7km. Of course the starting altitude is 2600m finishing up around 3000m. To give you a comparison, the Zig Zag at Box Hill is a gain of 120m over a distance of 2.5 Km and with the top reputedly at 220m or so our Surrey climbs are all at a rather normal altitude for us. You can't underestimate the difference in climbing at 2500m upwards.
I am told my time of 25 minutes matches Senior Juan which surprises me although he was a big man when younger. Claudia's mother apparently is knowledgable on times from when Juan raced so I earned my stripes. This ride was very special and at one point I did a Brad (TdF stage this year where he realised he'd done it and lost concentration and Froome had to keep him together for a brief spell).
In other words, I got lost in the emotion of the occasion this being my first visit to Colombia, first time meeting family, first time having a team car, first time riding a Fausto Coppi having only seen one of his tour winning bikes hanging in Dauphin Sport, first time riding Campagnolo preoperly, first time Claudia has been able to take photographs and my first time riding a climb like this.
My ride is nothing remarkable for the event-riding Moles who have sought out their cycling goals amidst D2D, sportives and mad Welsh downhills. But for me and perhaps for the modest riders amongst us, it felt like an achievement, certainly my longest climb and for those of you who have not done this it is a mix of sensations. Achievement, excitement, privilege, pain and teasing.
You grind your way up the visible road ahead for however many metres you can see then the next bend steepens and you have to dig, out of the saddle for that extra push except your body doesn't respond. You round the bend, take in the view, sort of hope that's the last bend and then look ahead to another stretch of road going up. You settle your breathing back down, return to your rhythm, resolve yourself to finding strength for that next drag and the final bend and as you round it, yes you have the same ahead of you again. And again, and again.
As soon as I connected my Bryton computer back at base the magic of google maps showed me the Colombian location, terrain and ride data. Impressive stuff.
Cartegena
My rest came in the Carribean and historical port of Cartegena with fantastic hotel on the beach strip, the warmest sea I have experienced, 30c+ temperatures and sunburn to go with it whilst everyone else went dark brown, tropical islands with turquoise waters due to the corals, snorkelling over those corals, lunch on one of those islands, a James Bond style speedboat experience transporting us that day, the whole family in the mud spa of a volcano, a classical old town with coach and horses and tourist-driven preservation, an amazingly designed old fort (Castilla de San Felipe from memory) and more.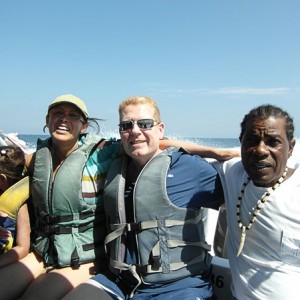 An absolute dream of a lifetime, the best 5 days I have spent anywhere, ever.
The many small islands such as below are typically owned by the wealthy, industrials or newspaper empires.
Thankfully the glorious waters like this (the corals give them their colour) are not.
A slight digression back to that volcano, what a laugh. You climb up steps of maybe 20m, all climb in and wallow in this poo-stinking mud (sulphur probably), stay naturally buoyant, eventually get out, slop it all off, climb down slippery steps, slip and slide down to the lagoon and wash off. Claudia pinched my trunks and hung them on a tree and I had to get out of the water naked to go and get them in front of her entire family. Nothing like breaking down barriers!
The plan after returning to Bogota was to then take on a tougher Bogota climb and then take the bike to ride with Juan in the tropical heat and flat roads of Girardot where he had another road bike stored.
To be continued in Part two of my Colombian story…