Yesterday (Thursday 12 January), DaveC, Karl, Jem, Darren, Amanda, Elliot and myself had a molemeet at London's ExCel exhibition centre to attend the London Bike Show.
The ExCel exhibition space is pretty big; big enough to squeeze in the London Boat Show and The Outdoors Shows in at the same time which makes a visit to the Bike Show good value – if you wish you can take in the other shows on the same ticket and the eye candy is a cut above at the Boat Show it must be said!
But back to the Bike Show. Was it worth the trip?
Well, that depends. We're quite late in the season for shows really, so a lot of stuff has been seen before at the Cycle Show in Birmingham and at other events across the globe. Web-goggles mean that we've seen pics of lots of this stuff already.
But what the Bike Show lacked in exclusives (and there were still some bits and pieces here and there) it made up for by the fact that for many of us it was the first time we have had hands on with a lot of the latest bikes and kit. It was also useful to see any trends in the industry to get a feel for the future.
In no particular order here's a few thoughts…
Phat – or Fat – bikes
Phat bikes are huge! I mean, physically huge and it's not til you see them in the metal you realise how chunky they are. With 26 inch wheels but massive tyres they run out around 29er sizing, but with a massively bigger footprint. Everyone who saw the Salsa Mukluk or the prototype On-One fat bike wanted a go and was trying to work out in their head what they'd feel like on their local trails.
For what it's worth, I reckon they'd be a right laugh on a semi-technical Surrey ride as the low pressure in the tyres could give huge grip over roots and in loamy soil. Dave was keen for the Salsa guy to get a demo for Cycleworks at least (as well as a Horsethief as soon as they are available)!
Despite there only being two Phat bikes at the show, these were real talking points. While looking at the Mukluk in detail I was amazed at just how many people had to ask what it was and why it had such big tyres!
Carbon fibre skillz
Moving on, there's an interesting contrast in carbon technologies forming. A lot of the high end US manufacturers have committed to carbon in a big way, with Intense joining Santa Cruz, Yeti and Niner in having bespoke frames taking maximum advantage of carbon's properties.
Looking initially like traditional aluminium frames, it's not until you look closely that you see what's going on; something that's not immediately obvious in most photos knocking around.
Put simply, these high end frames feature extreme tube shaping, downtubes flaring massively around the bottom bracket area for example or ovalised top tubes fattening into massive head tubes. There's sculpted cahinstays and all sorts of flex built into the frames in the right places, plenty of internal cable routing and a real sense that these machines mean business.
At least one model in each range is also a dull, matt finish black which shows the carbon is there for a purpose – no fancy carbon weave trying to pretend it's something it's not for example.
In contrast, the Far East is churning out ever more carbon frames that are targetted clearly at the middle of the market. They immediately seem less desirable and it's hard to know why. The On-One frames for example are neatly executed but to me just don't look to have the intrinsic quality of the US stuff.
For example, fine though it is, the On-One Whippet suffers to my mind from a lack of mud room around the bottom bracket and the 456 carbon just looks like the dimensions of each tube have just been over-sized as much as possible. Contrast it's slab sided look with the kind of chainstay sculpting going on at Niner for example.
None of this is to comment on how each bike rides though – I haven't a clue, I'm just saying the £2-2,500 frames appear to provide more, which is how it should be. But a clearly one carbon bike is not the same as another carbon bike; it's how the material is used which is important.
Much the same as any other bike material then. But it's not until you compare these things that the differences show up I think.
Ally isn't dead!
On the subject of which, there's still some cracking aluminium frames out there. Whyte, who admittedly are also doing some great stuff with carbon, had some delicious looking 829 29er hardtails on display with double pass welds that looked almost carbon like in their smoothness – certainly getting toward traditional Cannondale standards of welding to my mind. It's a long time since I've wanted anything from the ATB stable (Whyte/Marin) but these looked pretty gorgeous to me.
While we're talking ally, On-One had the El-Guapo rasta-coloured 29er full sus frame on show. The colour is terrific, anodised green, gold and red and frankly if I can persuade Dave, that'll be his next bike based on colour alone.
Again, what doesn't come across immediately in photos is the variation in tube shapes that modern hydroforming techniques allow – the top tube is a bit of a tour de force, starting with a sharp edged peak along it's top edge, forming a flat triangle in it's mid-section and then ovalising near the seat tube. A great looking machine.
Oh yes, 29ers
One theme you may also be getting from all this is 29ers. I'm yet to step up to the 29er plate so have no comment to make on their relative merits over other wheel sizes. But what isn't in doubt is the focus on 29ers at the show. Not only have mountain bikes appeared to reclaim centre stage at the show from the roadie/urban/commuter crowd, but it's 29ers that are to the fore.
Now it may be that because 29ers are everywhere they now seem more 'normal' to my eyes. Or it may be that designers have worked out the aesthetics better than before. Or maybe the latest standards like tapered head tubes and PressFit BBs suit them better. I don't know. But 29ers were very prominent with most manufacturers shoving the 26 inch stuff to the back and to be honest the bikes I found myself most likely to part with money for were all 29ers.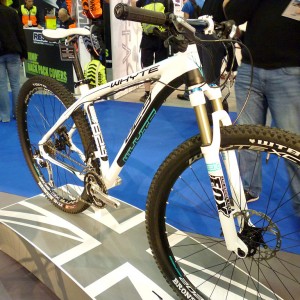 If the bike industry is dictated by fashion (and it is, just like the wider world), then I'd start budgeting for a new bike in the next 18 months if I were you!
So, Phat bikes, carbon bikes and 29ers. Anything else of note? Yes.
TOWIE (The Only Way Is Electric!)
Electric shifting that is, not those pseudo-moped e-Bikes of which there was thankfully little evidence.
On the Pinarello stand (yikes, road bikes!) there was a machine kitted out with the new Campagnolo electrically operated transmission. We now have both Shimano and Campag producing this technology, with Shimano now on its second generation of product, trickling it down to the more 'affordable' Ultegra groupset. In both cases, it's an amazing bit of kit, with fast, accurate gear changes and auto trim on the front derailleur to avoid chain rub.
The battery packs are small and will get smaller but the interesting thing with the Campag stuff is if the charge runs out you can manually stick the thing in a gear to get home. However, talking to a keen roadie, he said his Shimano Di2 hadn't needed charging for 6 months! So it can handle a lot of gear changes and he reckoned the system has been reliable – 'faultless' – on CX races too.
So my prediction is we can expect to see mid-range groupsets running electronic shifting on MTBs within five years and high end stuff well before that. When you think of the benefits from fast, slick shifts under load it's an enticing prospect. Almost as enticing as the idea of disc brakes on road bikes (which I'll talk about next week). Basically, there's a lot of cross-pollination of technology out there at the moment, which there needs to be if manufacturers are going to get a return on their R&D investment.
Of course, the first carbon, electronically shifted Phat bike might be a bit further off!!
Components – Four4th Lights, Exposure Dynamos and Hope
Site sponsor Four4th Lights were exhibiting at the show for the first time, right outside the Trek stand. Their product development is coming on a pace with some interesting ideas currently being explored. One of the best was a new battery mounting system which uses the same twist and lock idea as their head units.
Fitting neatly under a stem, the mount stays in place (in the same way a Garmin mount stays on the bike), while the battery twists into place with a half turn. Not only does it provide rapid battery swaps if needed but it means cable runs can be as short as you like, massively upping the convenience factor. Of course, if you wish, you could put the mount anywhere else on the bike so the choice is yours but that quick-release system is gold. I'm looking forward to getting my hands on the system.
It's an idea that, coupled with the Duomo road lens, will be of equal interest to roadies and commuters I think. To help there, Four4th are also working on a super bright rear light – meant to be visible in daylight – with a mounting system that avoids problems with extreme carbon seat tube shapes. This could be of real interest to Time Triallers in particular who have some pretty out-there tube shapes on their bikes.
In contrast, Exposure Lights were showing a new dynamo system for the first time. I won't pretend I know a huge amount about it; Exposure rarely seem particularly approachable (despite me owning a Maxx-D purchased from my own pocket) but reading elsewhere it seems the dynamo provides up to 650 lumens on the move and ideas are being explored to use it to power other on-bike requirements such as bike computers. Exposure have long understood the needs of endurance racers in particular and this is another example of lateral thinking; at the same time, that sort of power is a commuters' dream.
Hope Technology were at the show as usual, with a couple of developments appearing to move forward; the Hope disc brake converter, which allows hydraulic disc brakes to be run from conventional cable operated road shifters and the integrated freehub and cassette. The converter is particularly useful to touring bikes and the cyclocross crowd at the moment, but if (when) road discs appear on the scene this will give a whole lease of life to older components, so it's a smart avenue to explore.
The integrated cassette/freehub is still likely to be of most interest to downhillers and the one on display was in fact a six speed unit, with a nine or ten tooth sprocket present.
Clothing
Unlike many shows I've attended, there was a bit of retail activity going on around clothing.
Kicking off we met with the Intrepid Apparel boys and girls who are quite local to us – Godalming based in fact. Their range of clothing looks excellent and I especially like the design touches – the ratchet system for waist adjustment and the small fir tree motifs, including on the zip pullers. These details looked great in stark white.
Black/charcoal checked Mission shorts and a more adventurous lime/blue version looked rather tempting while the lime green Campaign freeride short had me thinking we'll all be looking like D'Andy soon.
A final item from Intrepid that caught my eye was the Ultimate softshell jacket with plenty of white detailing, with zips being picked out in white for example. I really like the idea of trail clothing which is casually wearable off-bike. A brand to watch I think.
Endura showed up with a huge display of their latest clothing and it was a great chance to see a lot of products locals shops just can't stock for space reasons. My favourite is the MT500 long sleeve jersey which has slightly tougher sleeves than most to shrug off the odd off-piste bramble or to cope with the occasional tumble. I already have my eye on an apple green Convert II jacket to replace my Gore Phantom in any case…
Unfortunately there was no sign of Charmaine who handles the Endura custom printing programme or we'd have asked about our 2012 shirts. Maybe they're being worked on as we speak as we're expecting them sometime next week.
Madison also had some bargains available. They have a big range of clothing and also stock Pearl Izumi – I was hoping to see the 180 Pro softshell jacket but instead found myself picking up a bargainous Madison Trail jacket for half price! It's always nice to treat yourself and this seems just the thing for wearing both on the bike and to the pub. A review soon I think on that one.
Finally, we bumped into Paul Mander-O'Beirne of the Bike Leasing Company, another Surrey local who had Transition bikes on display. I'm looking forward to putting a Bandit through it's paces in a while and will report back.
All in all, a great way to spend a Thursday. There was stuff I didn't manage to see and plenty of people I'd have loved to talk to but at the end of all that I was knackered!!
Lots of photos of the London Bike Show are on Flickr. See also Lord On-One's (much better) efforts!