More developments on belt drive bikes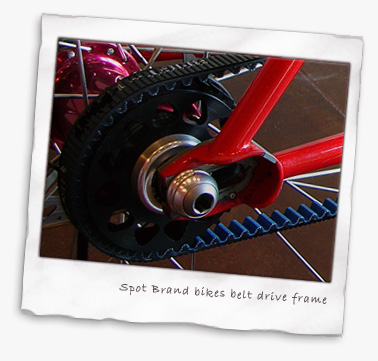 Some time back I mentioned a posting on Singletrack about the fact that Orange were trialing belt drive as a replacement for the traditional bike chain. Clearly it offers great advantages, particularly as a singlespeed and this initial reaction was backed up by a more in depth article in the September issue of the mag.
But ultimately, people worry about how they're going to replace a worn or damaged belt when it comes as a one-piece item. Good old fashioned logic, backed up by some head scratching brings you to the only conclusion – if the belt can't be broken, then it'll have to be the frame.
There's ways and means, but one of the most elegant solutions to the problem is to have some method of interupting or removing the driveside dropout. Spot Brand bikes, the Colorado based frame-builders, seem to have come up with a particularly innovative and attractive answer to the question with their own take on the belt drive issue, which can be seen in the picture above, shamelessly culled from their website.
Details remain thin on the ground as the bike looks to be as provisional as the belt drive P7, but it does look like it has a pretty good chance of success and Spot are so far the only ones who have decided to trail this information in polite company (well, on their website anyway). With fingers well and truly crossed, I'm going to put them on my provisional list of belt drive singlespeed suppliers along with Orange mainly because I want this idea to work and I don't know of any other manufacturers dabbling in this at the moment anyway.
So far, I'm with Orange but I'm leaning toward Spot Brand. Their website is the place to be if you want to find out more about the Spot Brand belt drive bike.