Rediscovering single speeding
I guess some jaded riders will read this and think "oh I hope it's not going to be a flowery, self indulgent post about how great single speeding is and how Zen it is".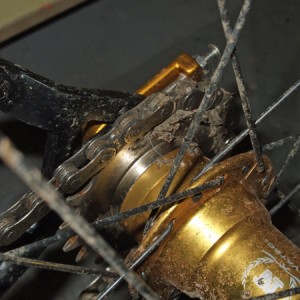 Well, if you are thinking that you might want to skip to the next post!
Come on, lets face it, mountain biking, especially in the mud, is hard work. It makes no logical sense to make it more difficult by taking all the gears off your bike and giving you a single, mainly compromised, gear to ride with.
Just to throw logic a little further out of the ball park lets run some sort of rigid fork as well. After all we don't want to be comfortable. Maybe draw the line at heavy BDSM the night before though, we are only human.
So, having established that this is not a sensible move from a logical point of view I can wax lyrical about it.
As I started to write this I'd just got back from a ride just short of 24 miles. There was plenty of mud, there was 1800 feet of climbing according to the GPS and, for the most part, there was me and Big Al sitting at the front of the pack.
I don't really do the front of the pack. I don't consider myself fit enough or strong enough. I do the back of middle. On the way out you could argue the rest of the riders were just following to learn the route, but it wasn't all new. The way home was a well ridden route and there was plenty of potential for overtaking but no, me and Big Al were at the front, keepin' it real on our steel SS steeds, him on a Singular Swift, me on an On-One Inbred, both 29ers.
There could be many reasons why I led the pack. First one could be that the bike is 8lbs lighter than anything else I own. I also believe that the whole drive train is more efficient. No proof, just a belief and some basic physics. A chain and two gear rings. Simple.
There's not even a tensioner, with a jockey wheel and bearing of some description to help you loose some power. Chuck at it what you will in terms of mud and it just keeps turning. With the straight chain line the wear is small even with our mud strewn Winters (and Summers!).
There is the psychological aspects to consider as well. Big Al commented to me on Sunday that there is a certain smug satisfaction as you hear expensive gear shifts grind and crunch behind you while I just stand up and stamp on the pedals a bit harder until my lungs give out. How much is that "smug satisfaction" worth over the course of a ride? Probably a fair bit.
I think there is another psychological aspect that may have real physical gains. This is where I get all Zen on you. In many ways reflecting the simple elegance of the drive train, with a rigid fork in particular, I am freed from all the decisions I might otherwise have to make.
What rear gear, what front ring, do I lock the forks out, is the fork pressure right, should I push the remote to drop the saddle down here. None of this interferes with the ride and the line. The bike tells me more.
I am at one with the bike. I can't blame the bike for shoddy gear changes which are really down to my maintenance and set up. I can't feel bad, other than not strong enough. Even on the flat when the others gear up and ride past I can just amble along and know I'll "get 'em" in a bit.
The run down Secret Single Track on Sunday showed me this again. It really is a case of "Pedal Dammit" and flow with the bike. "Schweet"
But this post isn't about trying to convert you or preach to you. I'd be a hypocrite if I did, as I've got a selection of geared bikes both with and without suspension, although most have no left shifter any more. It's just that my single speed continues to make me smile and surprise me as to how great it is to ride. I thought I'd share that with you.
Long may it continue.