Specialized Pitch Pro Seat – You Are the Weakest Link, Goodbye

You've hopefully already read Matt's excellent write up of our Moles day out at Swinley, which was an absolute hoot. Its true to say there was the odd mishap but thankfully nothing that resulted in a trip to A&E.
It could have been so different however and I'm reminded just how close we are to getting it badly wrong sometimes.
Like others, I was revelling in having a whole day of riding without worrying about the time or feeling guilty about (always) being late back. My excitement heightened whenever drops, roll-ins, berms or jumps featured, which is actually an awful lot of the time round Swinley. The Pitch is a missile and hides its slack angles and 30lb weight extremely well around the tight and twisty stuff as well as eating up the gnarly bits Swinley has to offer. It really is far more capable than my skills levels, which can help to get you out of trouble, but it can also coax you into trouble in the first place!.
According to my gps route, which resembles a plate of spaghetti at certain points where sections were sessioned, I ran down the jump gully 8 times and another 7 down the adjacent hill over the jumps and large berms. Other than nosing a few landings due to poor body position, I was beginning to get a little confident and there's no doubt my skills have improved…. to a degree.
So by the time we rode the jumpy lumpy option on Labyrinth I was a little over-zealous, particularly as I thought I'd just follow Warren. Big mistake.
The first stand-alone table top went well, then the second. My problems started when I encountered two together. With too much speed, I actually cleared the first table and landed on the transition, which in itself would be fine and dandy.
However, by now I was going far too fast and was too busy thinking 'holy crap, I've just cleared a table jump'. So by the time I immediately hit the second table it all went wrong and all I remember is seeing my feet up by my ears and clenching my sphincter as much as possible whilst holding onto the bars for dear life.
By what must have been an act of the Great Lord above, the bike landed first and then I, directly onto the seat. My testicles must've retreated so far from whence they came its a miracle they've reappeared.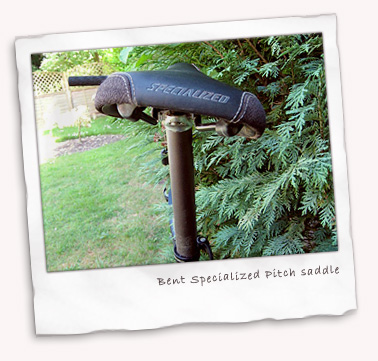 Other than some bruising and tenderness to a delicate area, no real harm done and after a few shakes of the head, I remounted and set off, only to find I had remodelled the seat, which made it nigh on impossible to ride back. At least I had an excuse to walk every hill, which I needed after 26 miles of adrenalin-filled riding.
So what have I learned from this is:
1. Beware situations where confidence begins to exceed skills level
2. Roll unfamiliar stuff slowly first
3. The Specialized Pitch Pro is an awesome bike, but the seat is made out of Cathedral City
Is Matt's suggestion of a warranty claim is a tad optimistic?
A full review of the Pitch will follow soon when Matt and I plan to ride it along with his Orange 5 back-to-back on the same trails so we can hopefully articulate some reasonable conclusions.