Sport Relief – We can help too (please)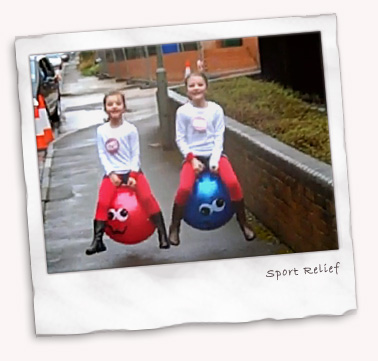 Watching the excellent programmes and features on the Beeb over the last few days you can't help but be inspired by some of the sporting feats whilst being deeply moved by the suffering those less fortunate than us have to live with.
Colin's Sport Relief Giving Page
Today, I helped my girls organise a sponsored space hop from our home to the town centre in Leatherhead and was really proud to see their tenacity at bouncing for over 1Km to raise money for the cause, despite the rain and suffering a flat (forgot to fill each hopper with some Stans!). Fortunately, we had a back-up space hopper.
The original target was £200 and after haranguing unsuspecting shoppers in Leatherhead and donations from family/friends we're already at £158. We left a picture of the girls in full bounce and a collection tin with the very helpful reception staff at the Nuffield Leatherhead who will try their best to fill it before the weekend is out, so we should trounce the total.
That's no reason to back off though and thats where you lot come in. The final part of our fund raising plan involves us Muddymole riders – those riding with the posse on Sunday are "invited" to make a one off contribution for the privilege, in favour of Sport Relief.
In return, I will pay for drinks and cakes when we take a refreshment stop (and I don't mean we break from tradition and go for a communal roast and 3 pints each at the Volunteer thank you!).
Whatever you may feel like giving, it'll be great. Cash to me on the day or if you'd rather, you can pay in advance by using my Sport Relief giving page.
Thanks in advance!