SRAM T-type Transmission spawns wider change

Last week SRAM announced a new drivetrain in the shape of the SRAM Eagle Transmission T-type replacement for XO, XX and XX SL groupsets.
Except, it's not a drivetrain according to SRAM but a transmission. No, I'm not sure what the difference is either but will humour SRAM if they wish. Their argument is the parts are all interdependent (meaning you need them all), rather than mix and match.
So, the Eagle Transmission T-type is all-new, if not entirely the revolutionary step SRAM claim.
The defining characteristic of the range is that the T-type does away with the derailleur hanger. But bicycles originally had no derailleur hanger, which were only introduced as a sacrificial part for when the worst happens and alloy/carbon frames couldn't be bent back into shape.
Even with a replaceable hanger, I've trashed derailleurs in my time – back in 2022 with my Bird's Shimano Deore derailleur, and way back with my SRAM XO failure in 2008. Though just this past week I had to stop twice to remove sticks from the derailleur on Pot Noodle, thanks to the further adventures of Stickman.
About the T-type Transmission
The idea behind the SRAM Transmission T-type derailleur is to ditch the hanger and use a more robust connection to the frame, to help the shifting accuracy and the longevity of the derailleur itself. As you can guess, I am not convinced even if the promo videos show someone standing on the derailleur mount itself. Most damage I've seen comes from sticks in pulley wheels and while SRAM have a new 'magic wheel' on their lower pulley wheel, that sort of tech could easily be applied to any existing derailleur.
Thus the T-type Transmission seems to me simply a means to sell more drivetrains, and more bikes too as you need a Universal Derailleur Hanger (UDH) compatible frame to hang it all on.
If you can clear that hurdle, you need to be ready for open heart surgery on your wallet as the complete drivetrain transmission costs up to £2890 for the top of the top of the range SRAM XX SL Eagle Transmission with power meters. With derailleurs at £600, I am not their target market!
I will concede that the Transmission range does look like great kit – all wireless, 12-speed, 520% gear range, ultra easy set up (that's one for speeding production lines as much as anything), new cassette, new derailleur, new chains, new cranksets, new shifter, about 1780g all-in. Very, very nice – perhaps I'll leave the wireless debate for another day.
Except… do we really want wireless MTB drivetrains? Again, I'm really not convinced (as a caveat – I wasn't convinced by dropper posts for ages either!). Fortunately those of us with cable-leaning sympathies have a new contender to consider in the shape of the TRP EVO12 which was co-incidentally also released last week.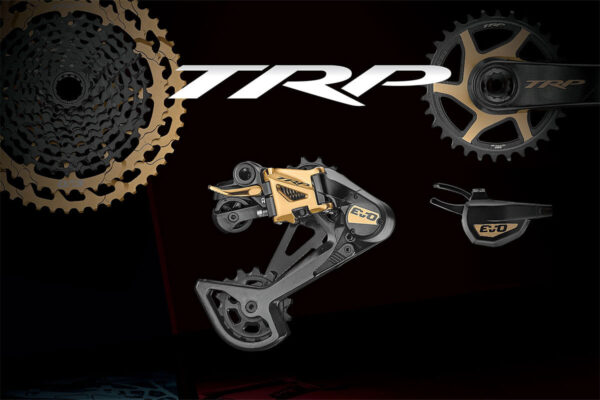 Competing ideas
The TRP EVO12 competes in a different market but is substantially cheaper – up to half the cost of the SRAM Eagle Transmission. But while the TRP EVO12 drivetrain may use cables, on paper it looks to be a fairly top end level of shifting, certainly for us hobbyist riders and it works with older frames. So that is definitely one to watch I think, especially as SRAM and Shimano are clearly on a cable phase-out route. We just need some long-ish term reviews and confidence in the supply and warranty side.
Talking of Shimano, and another co-incidence which probably isn't. But just today in Bikeradar I read about their patent application for… a Shimano direct mount derailleur! Seems like SRAM are not the only ones heading down the direct mount route although they clearly are at least one step ahead.
Or, converging ideas?
Finally, all this tech feels to me the precursor to making cycling much more appealing to the 'general' populace. Imagine a time when the Transmission tech has filtered down a few cost and performance levels for both SRAM and Shimano. And imagine a population keen for – essentially – ultra reliable drivetrains on their town and commuting and cargo e-bikes? I've made this point before about the Shimano CUES groupset but still feel this space is going to be a real battleground for both low, mid and top end options.
No-one has ever managed to better the efficiency of the derailleur and chain system – for good reasons – so why not make it more robust, easier to set up and less likely to fail? And with electronics on e-bikes, all this wireless tech is a good fit. Elsewhere in the ebike press I read about Gary Fisher's new Morelle e-bike brand, of which he claims:
Our bikes will be connected. The Bikes will have quite a few sensors. Real time metrics on tyre pressure, power, speed, stress gauges, GPS and an algorithm that includes adaptation to the weather. The battery and the charger will be monitored as well. Our batteries need not be left charging overnight.
Seems like robust electronic drivetrains are exactly in line with that thought process?
So today fancy-pants SRAM Transmission wireless gears (which, for the record I would love to try). But tomorrow? You might even see it on the school run…