SRAM XX1 – One groupset to rule them all?
The SRAM XX1 groupset seems to take up the single front chainring advantages that many people have moved onto with 1×9 or 1×10 set ups and turn it up to 11. However it seems to me to have a crucial limitation.
XX1 consists of a drive chain groupset. Rear mech (the great performing SRAM clutch type as I have on my Camber), chain, cassette, specific cassette body, chainset and either gripshift (remember them?) or underbar shifter.
It's cheaper and lighter than XX or XTR. Mainly due to the lack of multiple chainrings up front, a shorter chain requirement and no front mech/shifter.
The cassette/ freehub is the key to XX1. What must be a smaller diameter freehub allows the use of a cassette that goes down to 10t sprocket and with new levels of machining allow a 40t largest sprocket. Thus giving a gear range with 28-38t front chainring that would suit most of us (32t for me please), replicating almost all of a triple chainring setup, reducing chain drop and giving good performance for our full sus bikes (remember most full sussers are designed for their best performance around approx 32t middle ring).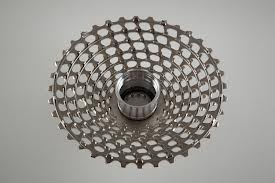 So what's not to like? Only one shifter to think about, potentially never dropping a chain again?  Well what wears out on bikes – chains and cassettes. It's the cost of the cassette (are you sitting confortably?) £330, that it the big problem for me.
That's a very big chunk of consumables cost for a MTB. I know that it takes many hours to machine in stainless steel, justifying the cost but let's hope this technology trickles down to a X9-X1 or a X7-X1. 1×11 is probably the future for many of us.