Stickers! Well, round 1 anyway…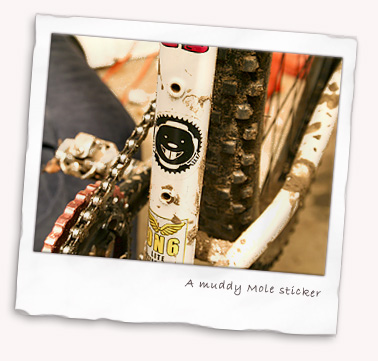 It's taken us an age to gradually establish a visual identity for the Muddymoles but I think we're slowly getting there. The next step for us is – stickers!
As you can see, we're currently experimenting with frame stickers using some transparent non-vinyl sheets that will go through the photocopier. It's an effort to see how the logo will look, how big it needs to be and so on. It's early days and the mole could probably do with simplifying but I'm quite happy with the results so far.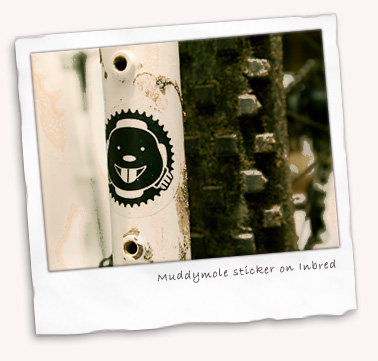 If anyone would like one to help with testing or feedback Dave may possibly have some spare – just drop us a line.
The master plan is to get some vinyl stickers properly printed with moles in black, white or silver to suit different frame colours, and possibly in full colour too (photocopiers don't print white…). We'll also be running off some stickers that just have the web address or a joke phrase to go on the seatstays or something.
Also just under the radar at the moment is some nice looking riding shirts which we're currently developing. I think they're going to be somewhere on the tasteful/sober/retro/cool nexus but where exactly is open to question! Watch this space.