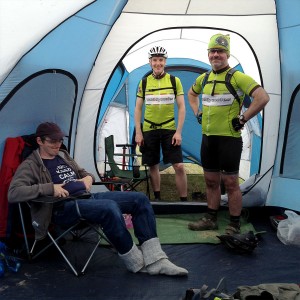 Here's a photo of something you don't see very often. All three founding MoleFathers together in one place with at least two of us threatening to ride a bike.
Kev snapped Mark, Dave and myself at Mayhem this year and if we'd had any sense we'd have stayed put in the tent and drunk beer for the whole weekend. Let's not re-live that experience again.
I thought I'd post this because if there's any photo that sums the Muddymoles up as a group it's this. It's a broad church and as you can see here, everybody's special.
We may have been the first but many have followed in our wheeltracks. Just wanted to tip my hat to everyone who's ridden with us over the years.