The Tatoo folding bicycle helmet – a chocolate teapot?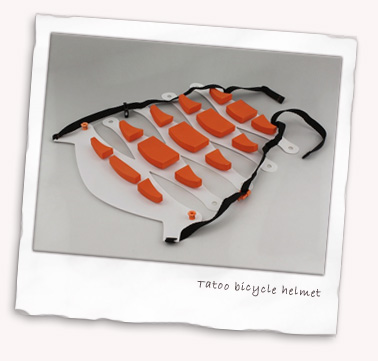 In a world ambivalent to cycling at best, cycling helmets are often cited as a reason not to ride a bike. Too bulky, too hot, too, well dorky for the casual rider to want to bother with.
Amongst regular riders, particularly commuters there's also a hardcore – if that's the right word – who refuse to wear helmets for similar reasons. And then there's those who will wear them off-road but not on and so on.
So at first glance, the Tatoo bicycle helmet has a few things going for it. It can fold up and be stowed away easily and it's made from 100% polypropolene which is cheap, recyclable and 'unbreakable' according to the inventor Julien Bergignat's own website.
Tatoo is French for Armadillo which the design uses for inspiration. And as we all know, Armadillo's are pretty tough too aren't they? So by now you'd be thinking this is something you might be tempted to wear when a proper cycle helmet just seems too much trouble wouldn't you?
Except, as the website 'Almost Genius' points out, it has one fundamental flaw. While the material it's made from may be unbreakable, the contents of it (i.e. your head) most certainly is not. And this bastard son of a recycled plastic bottle has no capacity at all to actually difuse the effect of a blow to the head (yes, I'm thinking Monty Python's 'Blow to the Head' sketch too!).
Whereas a normal helmet is designed to crack and spread the force of impact across the skull, thereby protecting the wearer's noggin, this is merely cushioned. So although you may feel smug in your eco-ness and delight in your lightweight solution to head protection, you may as well just put on a tea cosy and hope for the best.
Or as Almost Genius says:
When wearing the Tatoo, you might feel the warm glow of future-forward design. You also won't feel your legs, after you're paralyzed.