VAR tyre lever – an end to tubeless struggles?
Getting tyres on and off rims is something we've all struggled with at times. Maybe we're just blessed with the soft hands of the modern day office worker, but you never know when the curse of the tyre gods will strike.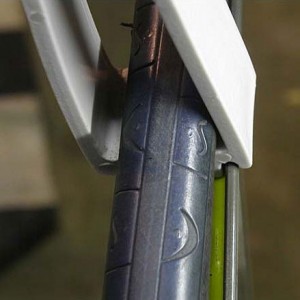 If you're out on a cold, wet trail somewhere it can be quite an issue, having seen many people struggle with puncture repairs over the years.
With modern tubeless tyres, things seem to have got even worse. My Nobby Nic UST 2.25 tyres proved to be near impossible to fit on my 819 rims without me having to resort to an hour-long gurning exercise. Not a pretty sight, especially when you're out in your front garden with a soapy bucket, some latex, a red face and two still-unseated tyres.
On the plus side, they don't seem to lose any air!
Over on Bikeradar I may have discovered the answer not only to fitting tubeless tyres but also to my tyre fitting woes in general. The VAR tyre lever is an example of applying the power of levers – and an intelligent mind – to the problem of fitting a tight tyre to your rim.
From time immemorial, pre-dating myself even, tyre levers have been sticks of varying lengths with a flat end (to save you puncturing your inner tube, yourself or from being tempted to use them as screwdrivers) and a hand grip.
With the VAR tyre lever, things have been turned on their head somewhat so that instead of applying a lever to one side of the tyre and rim and trying to prise the tyre on, it braces itself against the rim on one side and hooks under the bead on the other. This means the two components are pushing against each other while being held securely. As you lever the tool over it pulls the bead up and over too.
I've just ordered the VAR tyre lever from Geoffrey Butler (GB Cycles) for £6.70 plus P&P – there's a discount at the moment – and will let you know how it performs…