What has happened to the DT Swiss XRR SL Ti rigid carbon fork?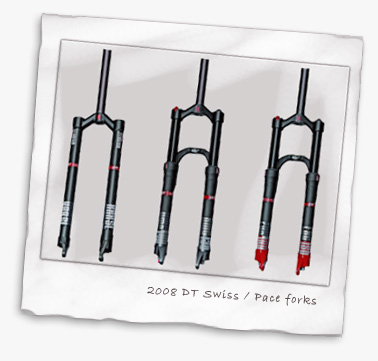 Over the past weeks I've been turning over the idea of setting up my old Muirwoods frame as a hack bike for the road, using a 9 speed block for the back and single chainring up front to give a reasonable but limited range of gearing to let me tow my son's tag–along when needed.
My ideal was to have a rigid carbon fork on the fornt as a low maintenance weight saver with a bit of zing reducing flex built in and one of the first models on my list was the XRR SL Ti rigid carbon fork from DT Swiss (previously Pace).
But can I find them for love or money? Not a chance. Sure, Pace still list them on their website, looking lovely and desirable. But DT Swiss don't mention them and a search on eBay or Wiggle or Chain Reaction or the web in general turns up precious little in the way of vendors.
I just can't work out what's happening as these are probably the best Pace / DT Swiss forks there are (there's no seals to worry about for a start, as Dave pointed out…).
Reluctantly but probably for the best in terms of wallet health I've had to look elsewhere and turned up these EXotic Carbon forks from CarbonCycles which look suspiciously close to the Pace and On-one efforts but at £85 are a fraction of the cost. And they come in a range of crown to axle heights so I should be able to get what I need.
I haven't tried them so usual caveats apply. But the look pretty much identical to the On-one and Pace carbon forks. Worth a punt would you say?