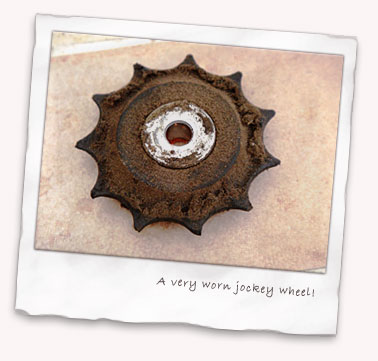 Do you know the feeling? One moment you are riding along, Mole and machine in perfect harmony. Then all of a sudden, hold on, you notice that the pads, cassette, chain etc… are all in need a replacing. When did that happen?
I normally think that I keep my (fleet of) bikes in good nick. So imagine my surprise when I noticed this week that the jockey wheels on my Trek Fuel Ex8 had been replaced by these ninja fighting stars.
Well I suppose that it's a good sign that I've been riding plenty. Plus it's amazing what level wear the bike can take and still keep going, but these are really worn!
This episode makes me think that I need a maintenance routine. Checking the pads, drivetrain, forks etc… every week to avoid maintenance crisis situations. You know the situation, when you wheel the bike out to find that the pads are gone and the chain is seized.
So my middle summer resolution is to get out into the garage and check my bikes out.
This could get expensive.