X-Fusion Hilo 100 dropper post
Over on Bikemagic they have recently written about the X-Fusion dropper post which they've just got in for review. What makes it a little different from much of the ever-growing crowd of dropper posts is its availability in 27.2mm sizing.
It would be perfect for older Orange Fives in fact!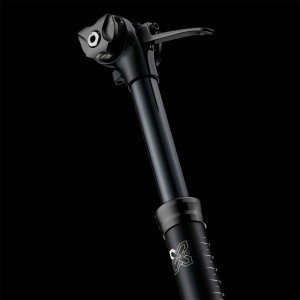 Underwhelmed by dropper posts
Those who ride with me know pretty much what I'm going to say here.
I'm ambivalent to the idea of dropper posts for two reasons. First of all, apart from the mechanical simplicity of the Gravity Dropper there is nothing out there which caters for my more-than-competent but increasingly old-skool feeling Five (2007 model). What with 'just' a 27.2mm seat post, no tapered head tube and so on its feeling rather out of date these days.
Unfortunately it's still significantly better than the person riding it!
The second reason for my lack of enthusiasm is the weight penalty. The X-Fusion is an additional 1.3lbs (600g) to lug around and since my Five is my do anything bike (as in, I ride it pretty much all the time), I don't really want to have to put up with that. Added to which I've spent a lot of time and money getting it down to a decent weight.
On the flipside I need to own up to the fact I've never actually tried a dropper post! So my complaints are in principal rather than based on any real-world experience. Could the advantages out-weigh the disadvantages?
The X-Fusion Hilo may be able to persuade me.
It's available with a remote cable operated switch from the handlebars or the more basic crotch-rumaging idea under the saddle. For those who noted how Rock Shox made such a big thing about being able to supply the Reverb with either bling chrome or matt black finishes recently it's interesting that the Hilo is also available in those colours.
Finally, 100mm adjustment seems to be all I'd ever need, allowing a decent drop, a 'normal' pedalling height and then a bit extra for those techy climbs. That's a tip D'Andy gave me and is the single most compelling argument I've seen so far.
But then there's that weight thing nagging me again…
What does everyone think?