Bicygnals Wirefree Bicycle Indicators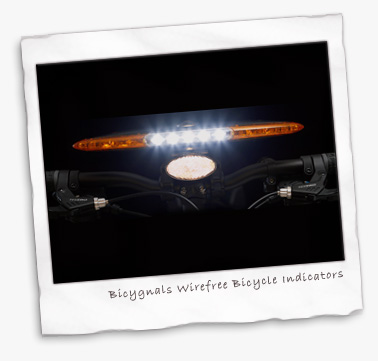 Now I don't know about you but have you ever thought to yourself how useful it would be to have indicator lights on your bike to let traffic know of your directional intentions?
No?
Neither have I, which may suggest a certain lack of imagination on my part. Thankfully I've found the perfect product for people who have more than enough creative capability to understand how flashing repeater lights front and rear on their push bike can help in their daily battle with the forces of good and evil. As an added benefit, the company that makes them (amusingly called Bicygnals) claims they will also aid cool and confidant cycling.
Perhaps I could do with a set for the next time I hit a stretch of wet chalk up on the Downs?
What the set consists of in actual fact is a handy unit that splits to provide front and rear lights with side indicator LEDs. The front unit has two thumb buttons, one on each side which operate the indicators lamps as required, sending an unequivocal signal to oncoming and pursueing traffic where you plan to go next. The real genius of the system is that the rear lights take their lead from the front by the awesome power of radio control, so there's no fiddly wires to worry about.
Two thoughts popped into my imaginatively challenged brain on seeing this.
First, only a complete idiot could ever think they would look cool and confidant with these contraptions strapped to the handlebars. They look as though you have a flying wedge hovering just about your hands and trying to operate these things with gloves could be a challenge.
Second, and more importantly, what a terrible idea! Instead of developing your road awareness, including looking over your shoulder to check for approaching traffic before signalling your next move you just press a button and turn! How cool is that? as they pick you up off the tarmac, hopefully still in one piece.
Using these lights allows a cyclist to act like any other road user with all the slovenly approach to road safety that entails. Except we are not like other road users. We're vulnerable, especially in urban environments, we're unpredictable and we don't have crumple zones. Our best defense is to make ourselves as visible as possible and to develop our road awareness by checking thoroughly in every direction for danger as often as possible.
And these lights are not likely to encourage that.