Brant at Shedfire appears to have been busy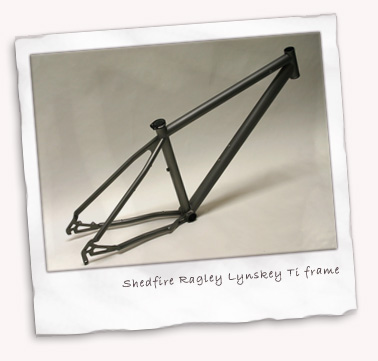 Funny thing is that the name Shedfire straight away makes me think of Chinese LED torches. Ultrafire, Sacredfire, Starfire, UniqueFire, Trustfire and I could go on (check out DealExtreme) but I also read the On-One website enough to know it's Brant having one of his little laughs.
Then again as reported here Brant isn't with On-One anymore, he's on his own and he is Shedfire. Current projects seem to indicate he's still best buddies with Mr Lynskey as he's got some mega expensive Ti bars on the go as well as looking as though he may be an early adopter of the internal G-boxx style. Matt says I'm not allowed to go anywhere near the bars, I think a fully Mary equipped fleet is too much for him!
Perhaps one of the most exciting developments is the Ragley Ti, shown above. Is it me or is it a development of the Inbred 456? Actually I hope it is, should be a great bike if it is and I look forward to a less exotic steel version. If it's not DN6 then it'll be whatever postcode the Shed is currently based in!
So interesting times ahead. I wonder if On-One will actually fade away and Planet-X will become the dominant Twin banishing the baggie clad riders in favour of the figure hugging, lycra brigade. There's a massive 500 line clearance sale starting 13/3/09 at On-One so maybe things will become clearer after that. Time will tell but I know I'm watching the Shedfire site with ever building enthusiasm!