Cycle Show 2008 trend alert

Earlier this week I promised you more from the Cycle Show. In fact I've barely got started but thought it worth commenting on a trend which became very apparent over the course of the show.
Red, black and white, in varying combinations seemed to be everywhere. First there was the Titus Racer X Carbon seen here. Not only was it very light (23lbs!) but it had red anodised wheels and hubs, white fork, white (very white) tyres and black red and white detailing on the frame.
Then, later on we came across the Cube AMS HPC, another race oriented full sus bike that was sporting the same colour palette in an even more striking combination, this time managing red spokes and blocky white lettering to go with a Magura fork which appears to have had one leg dipped in blood and white Formula Oro brakes.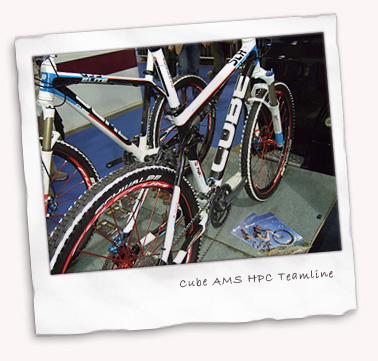 No sooner had we recovered from that striking spectacle than we stumbled onto the Cannondale stand. Frankly there was no hope. Not only was lime green everywhere (which I quite like) but we found this Moto Carbon 2 sporting another variation of red, black and white, including 'wet look' red bars and seatpost plus the not unexpected red rims and hubs.
To be honest I'm not really a fan of this trend. Why I'm not too sure but I think black is a bit boring on bikes, spangly red anodising can easily (almost immediately) look over the top and white is just white.
Maybe it's the knowledge that my orange Gore Phantom jacket would clash horribly with this colour scheme, maybe it's because I just can't figure out what to wear with it. Maybe I'm a tart. Maybe I'm a late adopter and camo, brown and olive is only just starting to look good for me, maybe I should just pass on this and go straight to Tweed.
Maybe. Maybe I'm wrong? Or then again, perhaps this retro thing is starting snare me…