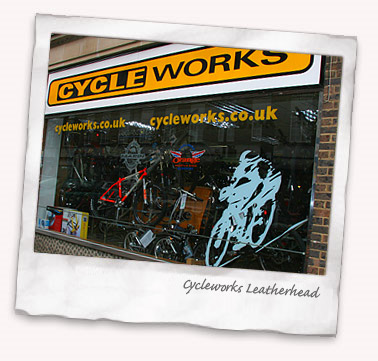 Many of our readers will know about Cycleworks, who happen to be our Local Bike Shop (LBS). They now have four stores serving Surrey and Hampshire-based road and mountain bikers (as well as the BMX and jump crowd but frankly, I don't understand any of that!).
The Leatherhead branch has recently increased it's retail space by around a third by expanding into the empty adjacent shop, which has allowed them to offer an even better range of road and mountain bikes, clothing and accessories, as well as refitting the entire store.
It's a good move too because it means the shop's checkout is now less hemmed in, hopefully making the staff more approachable and accessible. Not that they need any encouragement, as anyone knows, Dave the manager has always got something to say on the subject of bikes!
To celebrate the shop's expansion, Cycleworks are having an Open Evening on Wednesday 3 June (that's this week) from 6:30; we'll be there too as we plan to start our Wednesday night ride from there this week at 7:30, so this is a heads up for our regular riders. There's parking behind the store and if you need directions there's details on the Cycleworks website.