e-MTB: Battery powered Mountain Bikes

You thought that electric bikes were for the seriously unfit to pop down to the shops to get their groceries in. Well wrong. They are big business and love them or loath them they are coming to mountain biking. I've even invented an acronym; e-MTB!
The latest figures from Germany (apparently the big European market for ebikes) show that the market in ebikes is booming.
The lastest news from Eurobike shows some amazing e-MTBs. A 3 speed Ghost E-Ndure Electric that will let you climb up alpine passes or ride at 18mph on the flat. The only (major!) downside is the weight…26kg. Err, Catch 22. You need an electric motor for that!
There's even a completely insane e-bike built by Nicolai for Grace Bikes with a frame completely filled with batteries that's good for 40mph! (MarkW, your bike is soooo yesterday).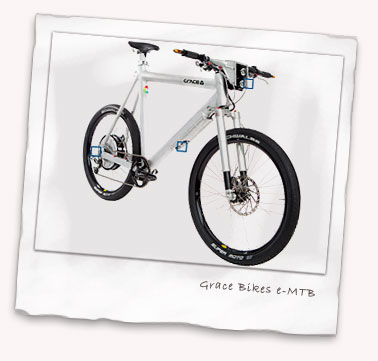 Of course non of these e-MTBs are legal for the top speeds mentioned but – nudge, nudge – they can be de-restricted for special circumstances. The Grace is actually nearer an electric moped than an MTB but definitions merge at this extreme end of e-MTB.
Of course, do I want an e-MTB? Well no way can I see myself riding one (well not until I'm decrepit) and I'm not looking forward to seeing them on the trials but I'm sure they will appear eventually. Maybe even for downhillers that have bikes that you can't pedal back uphill they might appeal or for people who want to get out into the hills but that can't just make it up the hills.
Surely though the beauty of bikes (MTB and road) is their lack of weight, simplicity, elegance (have you seen a good looking e-MTB yet?), all of which is lacking for e-MTBs…at the moment. However with mass production and an increasing market driving e-bike R&D the bikes will improve.
I'm afraid I can't explain things more than I'm simply ideologically opposed to e-MTB and I'm not looking forward to the moment when I'm passed on a hill by a smiling e-MTB'er.