Hope go CNC crazy at the 2011 Core Bike Show
I couldn't help noticing news from across the web that Hope have been busy announcing all sorts of products at the 2011 Core Bike Show in Northamptonshire, showing just what can be achieved with CNC technology these days.
One thing's for sure, their website is soon going to need a substantial update!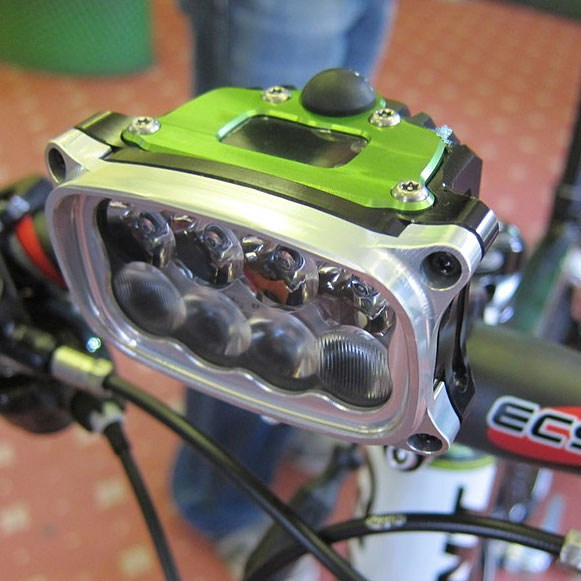 Photo credit: BikeMagic
I've been in two minds about Hope for a while. Their brakes are superb (I've run all sorts over the years, Minis, M4s etc.) and their hubs are becoming a sub-Chris King default choice – look out for my Pro2/Crest review soon. Bottom brackets too have shown themselves to be pretty reliable.
Round the edges of the range though the case is less compelling. Their stems are fine but don't perform any better than Thomson stems, which I prefer the look of. The Eternity seatpost looks 'fine' but I can't see a desperate need to get one. Again, my Thomson does the job plenty well enough. And don't get me started on Hope seat clamps either!
Then there's lights. I used to run a Hope HID before LED technology really came to the fore and liked the way the battery was neatly attached to the stem faceplate. For some time too Hope's Vision 4 has been a competent if unspectacular high end light, competing against the likes of Exposure's MaXx-D, Four4th Lights and a whole host of others. But in recent times it's been considerably outgunned in the output stakes by newer products from the companies mentioned.
This time around, Hope appear to be taking no chances with the unveiling of the Vision 8 LED light which packs a whopping 2500 lumens. I can't help wondering though if it's still slightly wide of the mark. Despite coming with 8 LEDs with various spot, flood, infill lenses, and programming which lets the rider choose different outputs and modes it looks pretty clunky to me slapped on the front of the stem. I looks more like a Trout light on steroids. With apologies to Trout!
I haven't see one for real but to me it misses the point. My Four4th lights are a much better option for the same kind of anticipated price because for that I can put one 1200 lumen flood on the bars and another 1200 lumen spot on my crash helmet where they're svelte enough for me to barely notice them. Exposure with their Six Pack and a joystick (or a MaXx-D and a couple of joysticks) achieve a similar output. The advantage though in both cases is the fact you have the greater directionality of helmet mounted lights, something I hate to be without off road at night.
So my attitude to the Hope Vision 8 is 'noted, but unconvinced'.
Photo credit: Bikeradar
A couple of other items worth mentioning are Hope's chain device and cranks which are at an earlier stage in their development cycle. The chain device looks very bling but again I can't help thinking a plastic alternative is both lighter and cheaper. As for the cranks, details are too sparse to comment but they certainly look to be state of the art in CNC milling. The upshot of that activity is likely to be Hope chainrings which might provide an alternative to the Middleburn and RaceFace products I currently use.
Plenty of additional information is available on the Hope Vision 8 LED light on Bikemagic and the Hope Vision 8, cranks and chain device on Bikeradar.