I must really Love My Bike!
Last night – yes, Valentine's Day – I somehow managed to get out without my wife but in company with DaveC, Cathie, Jem and Jill to attend the screening of the LifeCycles film 'I Love My Bike' at Farnham Maltings.
I don't know how I managed that either.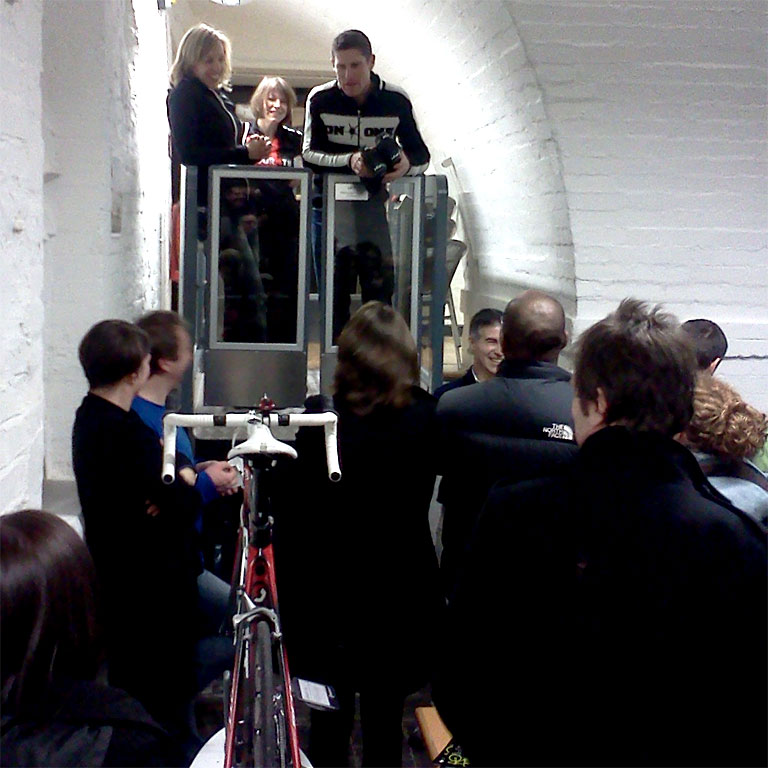 It turned out to be quite a cool event if you're into that sort of thing and remarkably well attended, thanks in large part to MrsFour4th, Ali, who has had a big part in organising the evening.
In the foyer of the slightly bohemian feeling Maltings building (which has been converted from it's original industrial purpose into a kind of arts centre) there was a display of Four4th Lights newest products, plus Scott bikes and On-One were represented by Caz and Scott Forbes respectively, Rachel Morris the Olympic handcyclist was there, along with BM7 Display Stands all of them giving up their time to promote the bike vibe.
The film itself was excellent, a slightly mystical narrative and pumping soundtrack combining with some very impressive riding and unbelievable backdrops to make a thoroughly entertaining evening. If only I had an auditorium myself we could get the Moles together for a re-viewing!
I didn't win any of the prizes – my magic thumb let me down badly on the tyre-press test and I felt it was pushing my luck to enter the competition for the Four4th Lights but I did come away with a hankering for that new carbon On-One frame that Scott Forbes is racing this year. The red and white paintjob is nicely judged and it looks far better than previous pictures have suggested.
I also had the chance to chat to Del from Four4th Lights and to find out the product range is continuing to evolve. More of that soon I hope.
Thanks very much to Ali for getting this evening off the ground – a cool achievement.