Intense Uzzi, Tracer VP and Spider 2 launched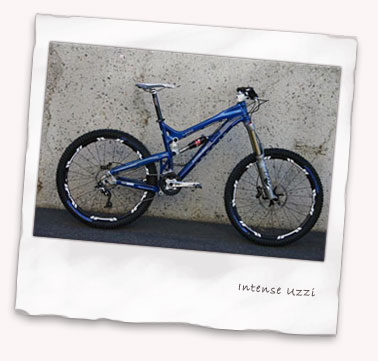 Over the past few months the folks at Intense Cycles have been quietly busy revamping their product line-up. The result is a ratonalisation of the range to speed up manufacturing and a more versatile product range.
Starting with the new Uzzi (Bikemagic) you're looking at a bike that is capable of serious all mountain performance or freeride work, offering anywhere between 6.5″ to 7.5″ of travel depending on which type of shock you choose (the factory offers both coil and air shocks).
Added to that there's compatibility with Truvativ's Hammerschmidt planetary gear system (well, ISCG mounts at least) and adjustable dropouts to alter wheelbase and frame angles to suit your taste and bike build (burly or burly plus).
Sitting in the middle of the range comes the Tracer VP, a replacement for the 5.5 EVP which I nearly bought myself 18 months back. That bike was (pun intended) too intense for me, offering no off switch to relax. I enjoyed it greatly but didn't fancy it as my main bike.
In contrast, the Tracer VP (BikeRadar review) sounds like it offers more all round performance—at least as far as BikeRadar seems to think so—and comes with custom Easton tubing, a 1.5 inch headtube, great looks and travel options between 5.5 and 6 inches at the rear and 130mm to 160mm up front. Overkill (probably pleasurably so) for our Surrey Hills riding but likely to be a joy anywhere more rugged, I wouldn't mind a go on this just to see.
Finally, the Spider 2 (Bikemagic) replaces the Spider FRO and uses many of the features from the Tracer but with shorter travel (4.5 to 5.5 inches) and racier looking angles. It's all relative since this is still a bike designed for 100-140mm travel forks so is no slouch on the rough stuff but it's clearly more focussed than the two bikes above. The upside is a frame weighing at least 1/2 a pound lighter than the Tracer VP and probably a much lighter bike overall with an appropriately sensible build.
Worth a look I reckon for our local trails and likely to be just as much a blast elsewhere it's a shame the current pound/dollar situation might price some potential buyers out of the market.